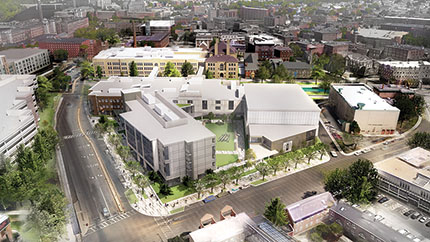 Lowell, MA The city has selected Suffolk as the city's construction manager for the Lowell High School project. This $343 million, seven-year project is not only the largest in the city's history, it is also the largest Massachusetts School Building Authority (MSBA) project in the Commonwealth of Massachusetts. "We are honored and privileged to have the opportunity to build this incredible new school for the city of Lowell," said Sean Edwards, vice president of operations, "and we look forward to implementing our unique approach and state-of-the-art technologies to this project."
Suffolk is a national, top-ranked construction firm with over $4 billion in annual revenue. Lowell now has a winning team of architects from Perkins Eastman and project managers from Skanska. The project will encompass 388,262 s/f of renovated space and 234,515 s/f of new construction, for a total of 622,777 s/f. Upon completion, Lowell High School will serve 3,520 students in grades 9-12.
As Mary Ann Williams, Lowell's OPM, said, "Together we are now one team, the Lowell team."
City manager Eileen Donoghue describes the construction and renovations of Lowell High as "a once-in-a-lifetime project that will have a transformative effect on students and will positively impact all residents."
The MSBA board approved the project budget and scope in April of this year and is now in the detailed design phase. Construction is expected to begin in 2021.