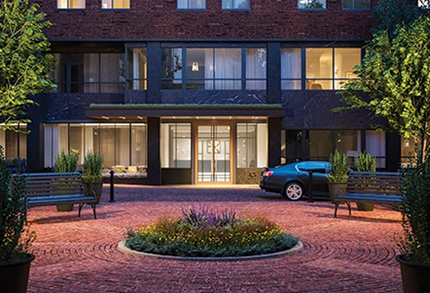 Boston, MA The Boston-based developer CCM has unveiled their plans for The Archer Residences, a 71-unit condominium project adapted from former university buildings, designed by The Architectural Team, Inc. (TAT).
Currently taking shape in Boston's Beacon Hill neighborhood, the boutique adaptive-reuse project sits on a site across from the Mass. State House, near the city's financial district. TAT's design combines two historic, brick-masonry buildings into a single, 172,000 s/f structure with a new 6,000 s/f duplex penthouse addition and 4,800 s/f landscaped rooftop terrace. Interiors are by LDa Architecture & Interiors.
For this location in one of Boston's most coveted areas, TAT's extensive expertise in sensitive restorations will help guide the recasting of decorative cement panels and conservation of exterior brickwork. Preserving and highlighting original details on both buildings, the earlier of which dates from the 1920s, add to the unique appeal of these ultra-luxury residences, which are expected to sit atop the market as some of the most desirable new homes in the city.
Unique for this dense urban setting, TAT's design provides for below-grade parking accessed via a car elevator. Other amenities include a playroom, club room lounge, fitness center, pet spa and bicycle storage.
"In cities such as Boston with strong architectural heritage and a tightly knit urban fabric, today's discerning residents value the authenticity and charm of older structures even as they seek out the latest and greatest amenities," said James Szymanski AIA, NCARB, LEED AP, Associate of The Architectural Team. "Along with market-leading features and services, the project team's careful attention to texture, material, color, and the relationship to surrounding buildings will help elevate The Archer Residences as a remarkable contemporary residential offering."
The Archer Residences is the latest in a long line of market-leading historic residential conversions and neighborhood-defining housing designs by TAT, including the Baker Chocolate Factory Complex in Boston, the The Worcester County Courthouse in Worcester, Mass, Yarn Works in Fitchburg, Mass., and the Sibley Building in Rochester, N.Y. The completion of The Archer Residences is expected in 2019.