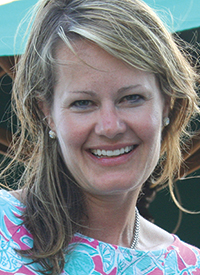 Meghan O'Brien Taylor, M.E. O'Brien & Sons, Inc.
Retailers understand the need to get more creative with ideas on attracting customers.  There is no doubt that forward thinking developers and management companies are the ones that attract the most foot traffic. 
Today's shopping centers can be exciting places at all times of the year. People are bustling about; shopping, eating, bowling, watching movies, attending outdoor events and more.  All of this activity, coupled with consistent use of cell phones (chatting, keeping in touch with social media and texting to name a few), can quickly drain the battery on smart phones and tablets. 
Soofa is a product of Cambridge-based, Changing Environments.   Founded out of inspiration at the Massachusetts Institute of Technology (MIT) Media Lab in 2014, Soofa benches are solar powered smart centers.  Each bench has a solar-charged sensor containing 2 weatherproof USB ports for charging cell phones, tablets, headphones, or other hand-held mobile devices.   The USB port is a vandalism proof portal that is universal and consistent throughout the technology industry. 
Charging during cloudy, rainy or snowy days and even at night is never a problem.  The solar technology on each Soofa bench stores energy that it collects during daylight hours and makes it available at any time.  On top of that, the time frame to charge any device is the same as one charging on an outlet relying on grid based power.  Soofa benches are truly a sustainability icon for outdoor spaces. 
More than just a bench with USB ports, Soofa is a platform for location-based information. The ever-developing technology of Soofa Benches includes the incorporation of sensors that gather valuable environmental data relevant for retailers, property managers and owners.  The information includes tracking the number of visitors that walk past the bench during a certain time frame, such as hourly.  If located outside storefronts, this data translates into excellent information to help property managers,  ]owners and retailers understand foot traffic in real numbers by potential consumers.  Data also includes information on noise levels and air quality to name a few additional features.   Each bench carries unique data specific information to its particular location. 
Utilizing FSC certified wood slats and powdercoated steel supports, Soofa benches are extremely weather and vandal resistant.  There are no visible screws and technology is attached with hidden security nuts inside a very durable polyethylene base.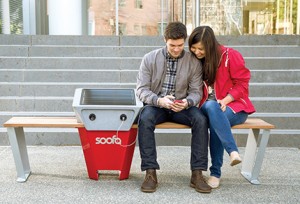 The Soofa bench
Soofa benches are the new urban water cooler.  A great benefit to all outdoor spaces and as the technology continues to develop the benefits will be more and more valuable to retailers as they strive to expand and attract consumers.
Outdoor spaces should be inspiring, relaxing and welcoming. People who design them should reflect those same characteristics. As the exclusive DuMor Site Furnishings representative for the Northeast, O'Brien & Sons provides New England's most experienced design team to assist you in making your vision a reality. Talk to us and discover why our customer relationships are as long-lasting as our installations.
Meghan O'Brien Taylor is president of M.E. O'Brien & Sons, Inc., Medfield, Mass.