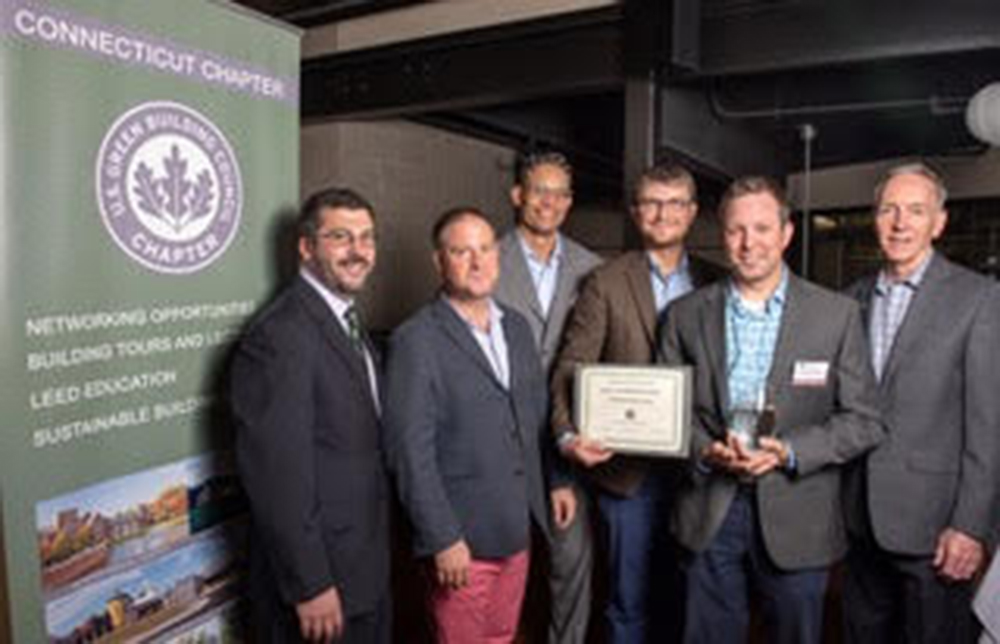 Branford, CT The CT Green Building Council (CTGBC) held its annual Green Building Awards Ceremony earlier this month at Stony Creek Brewery. Each year, CTGBC recognizes outstanding green building projects and design efforts in Connecticut in different categories, including residential, commercial, and public/institutional buildings. This year's award winners featured an exciting array of projects that prioritized both environmental sustainability and meeting important social goals.
The night's top award, the Atelier Ten Award of Excellence, was awarded to the UConn Hartford Campus. The project team, led by The Whiting-Turner Contracting Co., worked diligently to preserve historic aspects of the Hartford Times Building while renovating it into a model for sustainability. The project is currently pursuing LEED Gold Certification.
"UConn is thrilled to receive the CT Green Building Council award for the UConn Hartford Campus. The project reflects our deep commitment to preservation, adaptive reuse, and sustainability, and we are proud to be recognized for this achievement," said Laura Cruickshank, FAIA, UConn's master planner and chief architect.
"CTGBC's Awards program is a celebration of the great work that's being done in our communities advancing us towards a more sustainable future," said Brian Dwyer, chairman of the CTGBC board of directors. "With a near-record number of project submissions, it's a positive sign that building owners, designers, contractors and suppliers are embracing smarter, lower impact, more sustainable and resilient buildings."
This year, CTGBC partnered with CT Passive House to present the first ever Passive House Awards. Passive House is a rigorous building standard designed to maximize energy efficiency. A full list of 2018 CTGBC Green Building Award winners is found below:
• Atelier Ten Award of Excellence: UConn Hartford Campus, Hartford
• Judy Swann Green Advocate: Melissa Kops
• Residential Award of Merit: Restoration on Garner, Norwalk
• Passive House Award of Honor: Stonington Passive House, Stonington
• Passive House Award of Merit: Hudson County Farmhouse, Staatsburg, NY
• Carrier Institutional Award of Honor: Charter Oak International Academy, West Hartford
• Institutional Award of Merit: Thompson Exhibition Building, Mystic
• Student Award of Honor: New Haven Urban Canopy Parklet, New Haven
• Student Award of Merit: Dixwell Avenue Redevelopment, New Haven
• Out-of-State Award of Merit: River Point, Chicago, IL
CTGBC is a chapter of the US Green Building Council (USGBC) which covers the State of Connecticut. We are committed to transforming the way our buildings are designed, constructed and operated through sustainable building practices.