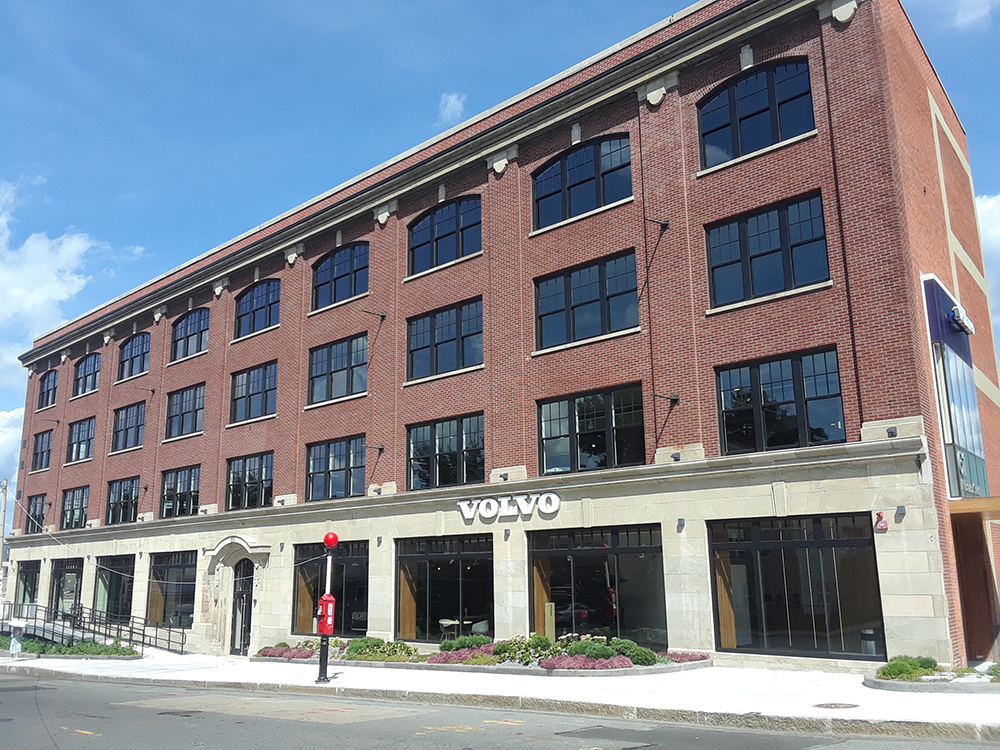 Brighton, MA Boston Volvo Village recently completed the historic renovation of 61 N. Beacon St., now home to its new urban dealership and offices. The five-story, 71,000 s/f historic Beaux Arts building, constructed in 1925, was once the New England regional headquarters for International Harvester. The renovated building includes 2,200 s/f of ground-floor retail and 28,000 s/f of transit-oriented office space, near the Framingham-Worcester commuter rail station at Boston Landing.
Universal Window supplied the historic replica windows for the renovation, using a combination of their 550 Series Double Hung and 700 Series Steel Replica windows. Universal accessed their library of historic panning profiles to meticulously match the original moulding profiles shown on the old blueprints. The windows were mulled and custom panning was attached in the Marlborough factory. Arched triple-hung units were shipped factory mulled with panning spanning across all three units.
The building features arched windows, highlighted by a fifty-foot bay window opening to the lobby, which includes a dramatic canopy entrance. There are eight-to-ten foot high windows on the main floor, with operable three-to-four foot high windows on the upper floors, providing abundant natural light for the building. The red brick façade of the Classic-Revival building is adorned with stone lintels, cornice, and other architectural details which reflect the industrial style of its era.
The main showroom for Boston Volvo Village is located on the newly-revitalized street level, with additional showroom space on the second floor, and service write-up on the ground level. The third and fourth floors offer 28,000 s/f of class A office space. An 8,500-pound freight elevator, heavy floor-load capacity of 150 pounds/square foot, exposed brick and mushroom columns make the space ideal for innovation companies. A 2,200 s/f space with outdoor patio area has also been set aside on the building's first floor for a neighborhood-scale, small retail area with hopes to house a small eatery, coffee shop, bakery or other local food service establishment. The architect for the project is Arrowstreet and CM&B of Danvers was the construction manager/contractor. The project is being managed by the Ciccolo Group. CBRE New England is the exclusive leasing agent for both the office and retail space.
"Universal is proud to be a part of the project that will restore this historically significant building to its former glory," said Tony Muraco, CEO of Universal Window and Door. "We are always pleased to be part of significant restorations like the former International Harvester building."