Storrs, CT Representatives from the University of Connecticut (UConn) and Eversource led a tour of Gampel Pavilion to unveil recent energy efficiency upgrades completed at the stadium and across campus that will reduce energy costs and enhance the university's overall sustainability efforts. Guests included governor Dannel Malloy and Connecticut Department of Energy and Environmental Protection (DEEP) deputy commissioner for energy Mary Sotos.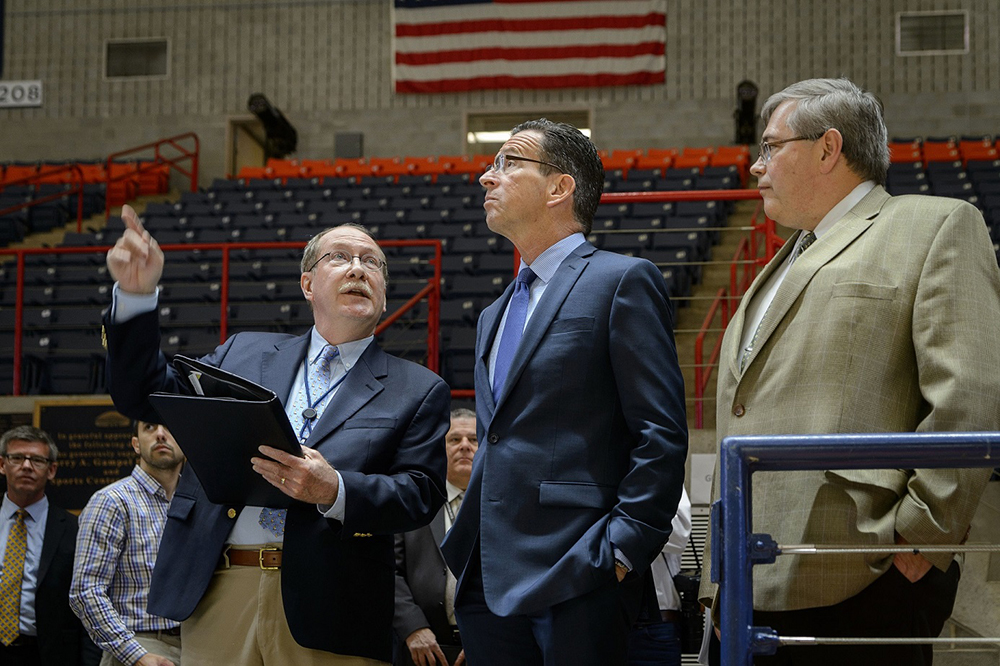 "Now more than ever, state government and higher education, in partnership with progressive energy companies like Eversource, need to take a leadership role on climate change," said Richard Miller, director of the Office of Environmental Policy at UConn. "UConn is proud to lead by example; we've been ranked by environmental organizations like the Sierra Club among the top 10 green campuses in the nation and around the globe for five consecutive years. The work we are recognizing today will not only deliver year-after-year energy and cost savings to the university, it will also help us continue our mission to be a carbon neutral campus by 2050."
As guests toured Gampel, they learned about the newly installed energy-efficient LED green lighting system that uses up to 75% less electricity while allowing more flexibility than before, such as dimming and remote control capabilities. The lighting system also reduces operating and maintenance costs by nearly 80%. Additional Gampel improvements include the installation of variable-frequency drives (VFDs) to regulate air handlers and the replacement of the original chillers and cooling towers with modern equipment for more efficient heating and cooling. Gampel is expected to save $100,000 a year in energy costs.
"Energy efficiency is vital to keeping costs down and freeing up capital to allow the university to continue to make improvements, expand and offer more services," said Miller.
The Gampel project is just one of the many improvements at UConn as part of its long-term energy management strategy with Eversource. The long-term plan takes a comprehensive, cost-effective approach to energy management at all of UConn's campuses.
and allows the university to better forecast its budget for future improvement projects.
"As UConn continues to grow, so do its energy needs," said Jim Hunt, Senior Vice President, Regulatory Affairs & Chief Communications Officer at Eversource. "This collaboration helps UConn reduce energy usage and operating costs while contributing to a cleaner energy future and environment for the state. We are a proud UConn partner and look forward to continuing to help them grow efficiently, be more sustainable, and effectively manage energy costs."
The 2014 to 2017 plan started with UConn and Eversource collaborating on several studies to determine where there were opportunities for energy-saving upgrades. In addition to the Gampel project, UConn will have completed nearly 80 projects with Eversource by the end of October 2017, including lighting upgrades in academic buildings, cooling upgrades in labs, and a recently opened new residence hall.
Eversource has estimated that UConn's energy efficiency efforts will result in approximately 9.5 million kilowatt hours of electricity saved, $1.5 million in energy cost savings, and CO2 reductions of more than 4,400 tons – the equivalent of nearly 1,100 cars off the road for a year.
In addition to electric efficiency projects, there have been several natural gas efficiency projects completed at the Storrs campus, resulting in an additional 2,700 tons of avoided carbon emissions.
The UConn and Eversource long-term plan supports the state's clean energy goals along with UConn's Climate Action Plan and 2020 Vision for Sustainability and Climate Leadership.
Future UConn and Eversource projects may include dorm, ice rink and greenhouse upgrades, as well as projects at Avery Point, UConn Health and the School of Law.
The energy efficiency tour was held during the EcoHusky Student Group's Earth Day Spring Fling, an annual celebration of sustainability featuring student groups, organic and local food and eco-friendly vendors.
The University of Connecticut is one of the top public research universities in the nation, with more than 30,000 students pursuing answers to critical questions in labs, lecture halls, and the community. Knowledge exploration throughout the University's network of campuses is united by a culture of innovation. As a vibrant, progressive leader, UConn fosters a diverse and dynamic culture that meets the challenges of a changing global society.
Eversourcetransmits and delivers electricity to 1.2 million customers in 149 cities and towns and provides natural gas to 229,000 customers in 72 communities in Connecticut. Recognized as the top U.S. utility for its energy efficiency programs by the sustainability advocacy organization Ceres, Eversource harnesses the commitment of its approximately 8,000 employees across three states to build a single, united company around the mission of safely delivering reliable energy and superior customer service.