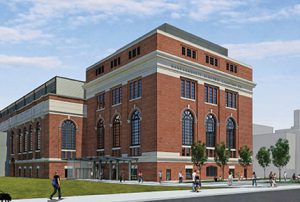 Providence, RI
Ventas, Inc. has purchased a life science, research and medical campus from affiliates of Blackstone Real Estate Partners VIII L.P.

The principal assets of the acquisition are a 269,000 s/f historic renovation of South Street Landing (SSL), a building that will be used for academic administration and educational purposes, and an adjacent newly constructed garage, which were purchased for nearly $130 million. SSL is 100% leased to Brown University for academic administrative offices and the Nursing Education Center, an initiative between Rhode Island College and University of Rhode Island's nursing programs.
The redevelopment, located on the waterfront of the Providence River, is nearly complete and is expected to be fully occupied later this year. It includes advanced medical teaching labs and simulation facilities and enjoys close proximity to Brown University's Warren Alpert Medical School and award-winning hospitals.
The acquisition also includes adjacent sites targeted for development and redevelopment to support the demand from universities and research companies at the campus for life science, medical and innovation purposes. The purchase price for these additional redevelopment and development sites was $21 million. Wexford Science + Technology LLC, a university-focused developer, intends to separately develop a 174-unit student housing residence on the campus for graduate, medical and upper-level nursing students.
"The Providence acquisition adds newly developed, state-of-the-art facilities to Ventas's high-quality life science, medical and innovation center portfolio, expands the company's relationships with leading research universities and provides significant opportunities for future growth," said Ventas executive vice president and chief investment officer John Cobb.
"We are excited that a firm with Ventas's vision and reputation is investing in an important project that advances the education, infrastructure and workforce development goals of Brown, the city of Providence and the state of Rhode Island," said Brown University president Christina Paxson.
With the addition of the Providence campus, Ventas has completed or committed to over $350 million of follow-on acquisitions and development projects in its attractive university-centered life science, medical and innovation center portfolio.