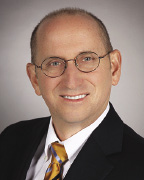 When you walk into a noticeably well-designed hotel the expansive space, light and interiors are seductive and inviting. Your eye is drawn to activity, service and comfort. Ceilings and walls are adorned with fixtures, art and architectural details that belie the stringent safety requirements. It is easy to forget the process it takes to move from white-paper concept to reality.
As a furniture, fixtures, & equipment (FF&E) procurement company working with some of the world's best designers, we are asked often to refer "good" designers. GS Associates, Inc. has worked with many designers from small to large, international to local, and all levels of experience.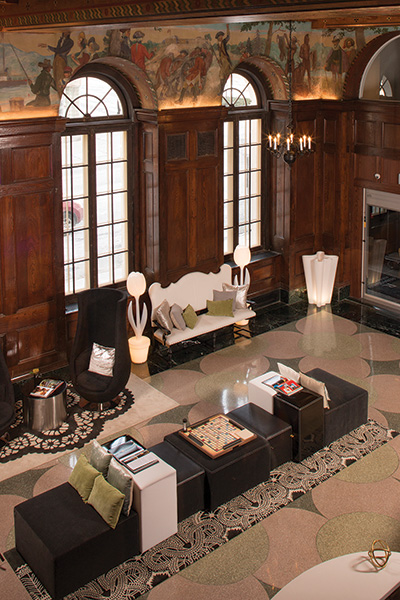 Interior design (ID) faces a difficult challenge, balancing masters to serve. An owner who wants artistic expression of their hotel as the main agenda, will have a different idea of good design than an owner who is bottom line oriented and needs the design executed to fit within a budget. Some are very hands on and others defer to their designers. Operators have a strong voice in the qualification and selection of designers. Knowledge and compliance to brand standards is a major criterion and many operators will have a list of pre-approved ID's for an owner to select. Operators and owners can be at odds with design direction, costs, brand standards. Sensitivity to the investment of the owner and budget control is matched against the operator's brand and understanding of what it takes to operate the hotel successfully.
What makes a good interior designer depends on perspective and agenda. Design companies can be great at one aspect of the process and not at others. Good design balances many agendas and requires the ability to satisfy the creative, functional, budget targets, and syncopated execution to maintain schedule requirements. If successful, the interior design balances the needs of all parties while being true to their own design integrity. For their own motivation, ID's, like most companies, are positioning themselves for exposure and differentiation in a competitive and subjective industry. We often see that there can be over focus on having spaces be so creative that agendas for function and cost can be compromised.
There are subjective and objective parts to design that should be separated and assessed for final decisions. Operational functionality, dimensions, circulation space, code and ADA compliance, technical standards, documentation accuracy and timeliness are mostly objective metrics that certainly mark as scoring designers. Conversely, more subjective issues such as regional expression, design trends, color, texture, and hard and soft finishes are harder to define as 'good' or 'bad,' as they will be based on opinion.
We have seen design presentations where the subjective aspects of the design missed in most creative criteria. We have seen designs with decades of throwback, too dark, completely missing regionality or current trends. On the other hand, we have seen designs so edgy but with a lack of comprehension the real technology, cost or methodology for construction and production capabilities that cause disappointing results. And yet as a procurement company our policy is to withhold opinions on elements like color and feel. We implement what an Owner approves. With plenty of parties on a project team providing opinions, additional input only adds to design disparity.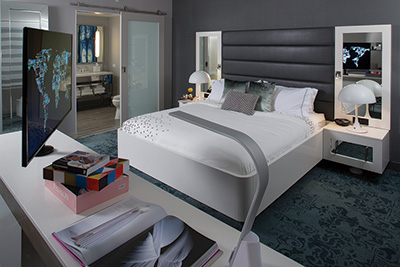 The best outcome for a hotel is when the Interior Designer integrates well with the project team. Consensus is not necessary. Sometimes conflicting ideas can challenge a team to look for new options and solutions. The hotel industry is seeing amazing technology changes that will impact guestroom and public area design. Operators and brands are searching for new and innovative ways to differentiate their product in a crowded field. Trends and technology are changing with quicker frequency. The consumer has immediate access to what is new and drives the competition of the hotel operator to stay ahead in defining their product. Many times, trends and technology changes outpace the development of projects resulting in obsolescence even upon the very moment of completion. This puts pressure on brands and design team to anticipate trends and technology and time decisions for being able to incorporate current possibilities.
What is often missed in the assessment of designers is the execution of the design. Execution is crucial to meet other targeted agendas. Even the best design needs efficient implementation. Good design badly executed usually ends up being bad design. The non-creative duties of a design company executing and coordinating plans, drawings, details, finishes, transitions, incorporating code requirements, furniture layouts, integrating electricals, and detailed specifications is paramount to maintaining schedule and preventing costly mistakes. Their design visions documented properly give greater probability for trades and manufacturers to fabricate their design visions correctly and cost effectively. As a project team member, the value of a designer's efficiency to compliment the creative portion is greatly appreciated.
In our opinion experience counts. There is a learning curve to understanding what works and what does not and mistakes get made on the way to that understanding. An Owner is best service going in with open eyes when selecting a designer who does not have hospitality experience. Experience or no good listening, communication and documentation skills are mandatory. Good design fits operational requirements into inspired and innovative design. They do not work well without each other. Good design understands space and how it relates the surrounding area and region. Good design captures the visions of the client, defines it, documents it for effective implementation by the rest of the project team. Good design understands the owner's agenda, their market, remains sensitive to the owner's business interests by appropriately designing cost appropriate spaces, finishes and materials.
You now sit comfortably in this well-designed hotel lobby, setting your cocktail on a table with the correct height, where the light is appropriately electrified without exposed wires, a hotel employee enters discreetly through a door that does not interrupt your enjoyment of this active, elegant space knowing that a designer exerted their talents and efforts to bring this concept to reality.
Gus Sarff, ISHC is president and owner of GS Associates, Inc., a procurement consulting firm providing FF&E and OS&E services locally, nationally and globally for luxury, convention, resort, limited service hotels, fractional ownership properties, restaurants, and function facilities.
For over 25 years, GS Associates, Inc. has continued to develop procurement technology and creative sourcing to maintain its leadership in the industry. GSA's services are transparent, expert, and will make a positive impact on any project.