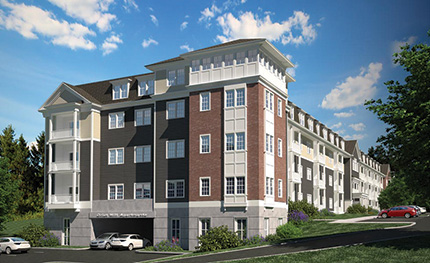 Chelmsford, MA Maugel Architects, Inc. said Winstanley Enterprises selected the firm to design the Grist Mill Apartments. Located on 5.5 acres, the four-story, 70-unit apartment development off Cushing Place, is located downtown, offering proximity to restaurants, shops and town amenities.
Maugel worked with Winstanley and Princeton Properties to design a mix of unit sizes appropriately scaled to the neighborhood. To complement the historical context of the community, the building features a mansard roof and traditional detailing in cornice mouldings, window trim, and dormers. A mix of underground and surface parking was also designed to provide parking for 138 vehicles.
Other team members include Howard Stein Hudson for Civil Engineering, BLW Engineers for MEP/FP, and TFMoran for Structural Engineering.
Some of the amenities offered at Grist Mill are access to public parking along the Bruce Freeman bike trail, a brook path, a pocket park, and a bike storage and bike repair center.