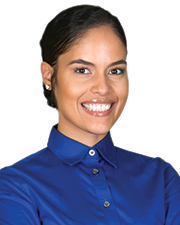 How many years have you been in your current field? 6
What are you doing differently in 2019 that has had a positive impact on your career? As a young professional, I have a lot more to learn. Every day is a new page that brings new opportunities. In 2019, I have been attending training courses that will help me expand my industry knowledge and provide me with additional tools to apply in upcoming projects. I am currently preparing for my Project Management Institute (PMI) exam to obtain Project Management Professional (PMP) certification.
What was your first job and what did you learn from it? After graduating from college, my first job was as an assistant project manager for a general contracting company. This job taught me how much I loved working in the construction field, regardless of the long hours I was working, or the stress I was going through at time. At the end of each day, I walked out of that office with a smile on my face, knowing I was doing work that made me happy.
Which project, deal or transaction was the "game changer" in the advancement of your career during the last 10 years? My first role was an internship as an assistant facilities manager, which focused on facilities projects only. This was fitting since I was majoring in facilities planning & management. The company I worked for at the time owned a 12-story building, all occupied, except for the unfinished top floor. Since I had a design background, they got me involved in finishing the 12th floor, acting as assistant project manager during the design phase. This project changed my life completely! I fell in love with managing projects and designing. After graduation, I focused more on project management and design, eventually got a master's degree in Project Management.
Who are three women – living or dead – that you would like to have drinks with and why?
1. Michelle Obama – she is an intelligent, kind and humble woman with so much potential and there is so much to learn from her. She is truly a leader.
2. Zaha Hadid – she was the first woman to receive the Pritzker Architecture Prize. She pursued her dream and became a very successful woman, and is an inspiration to all women, particularly in my field.
3. Oprah Winfrey – she proved the world that if you never give up and keep working hard you can achieve everything your heart desires.