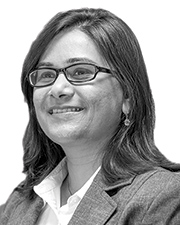 Shruti Shah
Senior Designer
DPS Group Global
What recent project or transaction are you most proud of? I recently completed a project for a confidential pharmaceutical client where I got the opportunity to design multi-process clinical production suites. These production suites are designed to handle two independent gene therapy manufacturing processes and other support functions. DPS collaborated with the end-users to understand their functional needs and process requirements, and provided the client with a creative solution. I am proud of our work on this project.
What honor, achievement or recognition means the most to you and why? As a senior designer at DPS, I work with clients, such as pharmaceutical companies, that make medicines for life-threatening diseases. While I've gained extensive experience designing highly specialized drug manufacturing facilities, it is also rewarding to me that patients' lives are made better with the development and manufacture of these medicines.
Everyone on a project, including clients and end-users, inspire me to create the best facility design I can.
What is the best advice you have received, and who was it from? "Always add value to everything you do." – That's one of the best pieces of advice I received early in my career from a project manager. It has helped me grow in all facets of life.