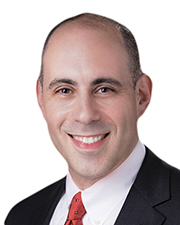 What led you to your current profession? Back in the mid '90's, I worked at a company that sold music technology to musicians, recording engineers and record producers over the phone. I was taught how to sell by the company's vice president of sales, who had his roots in commercial real estate, and he's always told me that my skills and work ethic could lead to a successful career in CRE. Eventually, I decided to give it a shot, and I haven't looked back.
How have your life experiences impacted who you are professionally? I've had a fairly varied career, which has included sales, marketing, business development, writing and reviewing contracts, and dealing with a wide range of people and personalities. Those experiences have all set me up well to offer my clients a holistic approach to brokerage, from marketing their properties to negotiating with buyers to reviewing contracts associated with the deal. When they're not transacting, I do my best to act as a conduit to market information for my clients, in an effort to help them successfully navigate the ups and downs of owning retail commercial real estate.
Who or what inspires you? My family. I'm lucky to have a great wife who is a driven professional in her own right, and we have two great kids who are happy, healthy, and a handful!
What advice can you offer to someone who is interested in a career in your industry? Be tenacious, be resourceful, and be able to live without any income for at least a year.