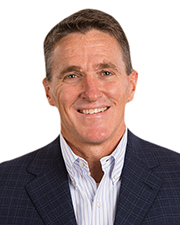 How do you contribute to your community or your profession? In my spare time, I coach individuals in sales who are looking to advance their careers. I am currently coaching military members on the transition to civilian life. I also work with Wounded Warriors as a mentor for their "Silently Wounded" project.
Who or what inspires you? I am inspired by healthy, active, talented, and innovative people who are willing to work and live for a cause and a career.
What advice can you offer to someone who is interested in a career in your industry? Define a path and master skills that will support that path moving forward.
How have your life experiences impacted who you are professionally? Life experiences cause you to evaluate what is important and put things in perspective. "Life experiences are the thumbprint of your soul."
Which project, deal, or transaction was the "game-changer" in the advancement of your career? In 2006, the early days of software as a service, I closed a deal with DuPont on a global scale for a sustainability platform that defined my career trajectory.
What led you to your current profession? As my focus began to transition to sustainability in the energy market, I was offered the opportunity to lead a team that offers "Sustainable Energy Management" as an industry leading service.
If your life were made into a movie, what actor would you want to portray you? Owen Wilson – just because I would want it to be funny.