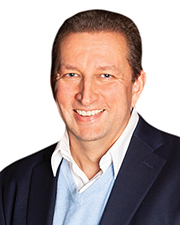 What led you to your current profession? As a teenager I was artistic, organized, and excelled at problem solving. One summer my father challenged me to design-build a wooden fence to enclose the family's new swimming pool under construction. That same day I started measuring and drawing slat pattern options. It was my first set of construction documents.
If your life were made into a movie, what actor would you want to portray you? I think the actor would have to be Adrien Brody, the youngest to win an Oscar for Best Actor. I loved his performance in Roman Polanski's The Pianist. But I think of Adrien mostly because of his stately nose.
How have your life experiences impacted who you are professionally? I grew up around creative hard-working men and women. Both of my grandfathers were entrepreneurs. And one, I am especially proud of, was an immigrant. Among the values they instilled was the value of honest hard work.
What advice can you offer to someone who is interested in a career in your industry? Architecture is a fascinating fast paced career that can lead to periods where no two days are alike. It is also fiercely competitive and inevitably you will face sharp criticism in response to long hours of hard work. Embrace your failures, learn from them. Think with your supervisors (clients), anticipate next steps i.e. take initiative. And network, network, network.