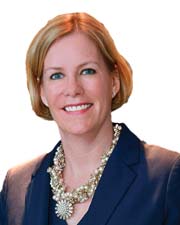 How do you contribute to your community or your profession? I used to serve on the board of directors for the Acord Food Pantry which serves six towns on the North Shore. In addition to regular donations, we provide pro bono public relations to help them with their fundraising and outreach efforts. The need is greater than ever given the impact of the COVID-19 pandemic.
What led you to your current profession? I studied international relations at American University and then the European Union at the University of Brussels. I wanted to be a diplomat. Instead, I ended up in sales – first advertising and then life insurance. When I moved to Boston I wanted a change and did some career counseling. It occurred to me that public relations would combine sales and diplomacy. My boyfriend at the time (now husband) knew someone who worked at a PR agency and he agreed to an informational interview. He hired me on the spot and my PR career was born.
What advice can you offer to someone who is interested in a career in your industry? I recommend starting at a small PR or marketing agency where you can wear many hats. I consider the three years I spent at the Neva Group my master's in PR. I worked on a variety of accounts and learned something from every client.