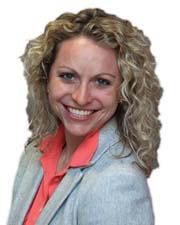 What was your greatest professional achievement or most notable project in the last 12 months? Gilbane is a leader in safety, and one of my greatest professional achievements was when I was awarded the Gilbane Class A Safety Award. This award is achieved through a recommendation approved by regional management, where the candidate's records, actions, and preventative measures are strictly reviewed. The individual must also display exemplary safety best practices, achieve project lost time/recordable rates below company goals, demonstrate effective accident prevention measures, and show respect towards personal and job-site worker safety.
When I'm not working I am…Running around with my two kids. They are at such wonderful, joy-filled ages that everything is an adventure. I also love staying physically active, trying out new restaurants, and stamping my way through the RI Brewery Passport. Rhode Island has a ton to offer, and being a new resident, I'm taking full advantage of all the wonderful things this state has!
What are you doing differently in 2020 that has had a positive impact on your career? This year, I started a mentor/mentee relationship with a young lady aspiring to be a superintendent. I'm fairly new to being an "official" mentor and didn't quite know what to expect. Boy, I had no idea how impactful the development of this relationship could be – on BOTH sides! Being able to answer questions, concerns, and general information that she may not be able to discuss with her boss has allowed us to both grow in a new way. I've been able to learn so much through this experience. I'm excited to see what the rest of 2020 has to offer.
What trends are you seeing in your field this year? What we are seeing right now is a huge issue with available contractors to provide competitive pricing. The construction market is booming, and the availability of skilled tradespeople is slimming down, which in turn is negatively affecting overall project costs. One trend that I am excited about is the use of drones on construction sites. The high school project that I'm working on now actually has a drone program and they have been taking some amazing weekly aerial progress photos. I've been able to further utilize these photos and incorporate them into construction updates and planning sessions.
Who or what inspired you to join the construction industry? My parents. Growing up, I was my dad's right-hand [wo]man on all our home's repairs and improvements. When it was time to apply for college, I had no idea what I wanted to do. My mom reminded me how much I liked construction projects and suggested Construction Management at Roger Williams University. After the first class, I knew this was the industry for me, and as they say, the rest is history.