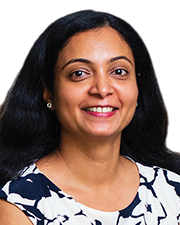 Archana Pai, Job Captain at TSKP Studio
How many years have you been in your current field? 14 years
Which project, deal, or transaction was the "game changer" in the advancement of your career during the last 10 years? CREC Discovery Academy, Wethersfield, CT. Being a project architect of the building exterior helped grow my construction knowledge immensely and gain confidence in my abilities as a designer.
What was your favorite job and what did you learn from it? Greenwich New Lebanon School, with its curved exterior walls clad in Zinc.
What would you tell your daughter about entering this profession? Passion, perseverance and hard work will keep you going in this profession.