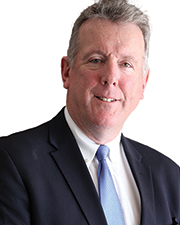 How do you contribute to your community or your profession? I serve as chairman of the Stoughton Housing Authority and also serve on our town's Community Preservation Committee. I was recently appointed to the board of directors of the Southeastern Massachusetts Chapter of the American Red Cross. My additional community involvement includes serving on the board of directors of the Old Colony YMCA, Stoughton branch, and on the board for the Easton Children's Museum.
What led you to your current profession? Upon graduation from college, I worked for three years at my father's real estate company, which was the Francis T. Crimmins Company. While there, I developed an interest in real estate, and real estate law. At that point, I went back to school and earned my law degree. Following graduation from law school, I joined my brother's law firm, The Law Offices of Francis T. Crimmins, Jr. It was a general practice firm with an emphasis on real estate law and municipal permitting. In 1994, I started my own practice and have continued in these areas of concentration.
What advice can you offer to someone who is interested in a career in your industry? For anyone interested in a career in the legal field, I recommend getting as broad an undergraduate education as possible. Then look to gain experience in many different areas of law through internships, etc., to find the area that truly interests you. Wherever you can, do what you love and love what you do.