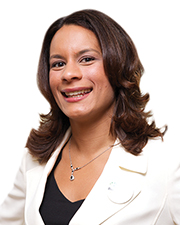 What led you to your current profession? I first fell in love with real estate investing when the market crashed in 2008. Unable to find a job in health care after graduating in August 2008, I picked up the book Rich Dad Poor Dad, which started me on my journey. Fast forward to the present, I am now leveraging my health care and real estate experience to create healthy communities by leveraging for-profit and non-profit models to create sustainable change.
What are some of the benefits of being a mentor or having a mentor? My mentor, George Antone of Fynanc, has provided invaluable strategic guidance which has empowered me to better navigate the financial system, anticipate challenges, and identify risks. I highly recommend working with a mentor to learn from his/her life experiences and wisdom. As the saying goes, 'you don't know, what you don't know'. Mentoring is a true gift of knowledge, support, resources, and encouragement which can help take any professionals' career to the next level.
What is one characteristic you believe every woman in commercial real estate should possess? Courage is a powerful strength and skill that can create, inspire, and propel careers in real estate. I encourage female investors and developers to demonstrate our courage to lead; to make mistakes; to fail; to try again; to be the only one in the room; to speak up; to disagree; and to let our light shine.