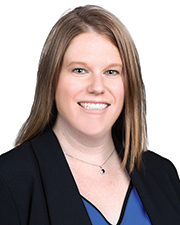 What led you to your current profession? In high school, I took an elective class in accounting, and I found out quickly that it was a great fit for me. The process of solving complex problems motivated me to choose accounting as my career, and it is still motivating me today. Working with different people and helping companies in a variety of ways makes this profession so rewarding.
What trends will dominate your industry in the coming months? Based on recent developments in Congress, we could see new tax legislation that might impact the real estate industry. In matters outside of taxation, companies must address lease accounting rule changes and continue to account for items such as rent abatements and deferrals.
What time management strategies do you find to be the most effective for you? There are plenty of useful time management strategies but none of them will be effective unless there is an honest commitment to preparation. Even something as simple as looking ahead at tomorrow's calendar before logging off for the day can really go a long way. Time spent preparing for a meeting is almost as important as the meeting itself, especially in the "remote work world." As a mother, I use these same concepts in my personal life because family time is so valuable. I try to do anything I can ahead of time to make the week's activities more manageable.