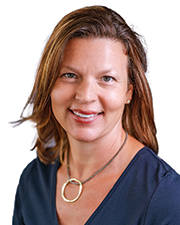 What led you to your current profession? I hold both a Bachelor's and Master's Degree in Education from Boston College and for a number of years I taught early childhood and special needs classes. I left the field of education to raise my children, and when it was time for me to return to work, I sought a different career path. In assessing my strengths, I've always found that it has been in being able to establish relationships rather than concentrate on "the sale." And that's what I do best in this role.
What trends will dominate your industry in the coming months? I believe we'll continue to see floods of people leaving the cities for more spacious living conditions. The COVID restrictions have helped drive this trend, as more and more businesses have opted for either totally remote or hybrid work models. Because of more telecommuting, people can live further from their workplaces and this opens up many opportunities to live in communities they might not otherwise find feasible.
What time management strategies do you find to be the most effective for you? One of my mentors taught me the value of time blocking. It's the practice of scheduling everything for yourself – from the work "to do's" to the personal "to do's". It's the way to make sure that there's time for everything. "If it's not on the schedule, it doesn't exist." My iPhone calendar is what drives the activities of each day.