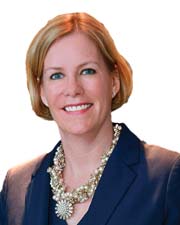 In the past year, what project, transaction or accomplishment are you most proud of? I earned a certificate in Enterprise Risk Management (ERM) through the Metropolitan College at Boston University and was certified as an Associate Business Continuity Professional (ABCP) through the Disaster Recovery Institute International (DRII).
What are some of the benefits of being a mentor or having a mentor? I believe the best mentor relationships are ones that are a two-way street. I learned from both being a mentor and having a mentor. In fact, at one time I had a peer mentor (a fellow small business owner) through the CREW Boston mentorship program.
What led you to your current profession? I lost my sales job placing temporary computer consultants and did some career counseling to figure out what I wanted to do next. Public relations seemed to be a good option as it combined diplomacy and sales. I studied international relations in college (diplomacy) and had been working in sales since graduation. I secured an informational interview at a small PR agency, and they hired me on the spot. As they say, the rest is history!