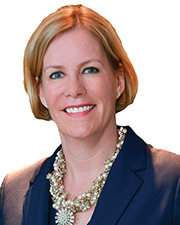 What was your greatest professional achievement or most notable project in the last 12 months? I started an online graduate certificate in Enterprise Risk Management through the Boston University Metropolitan College. I have one more class – Disaster Management – before completing the program in May. Needless to say, it has been interesting to study risk management during a global health pandemic.
Starting out in the construction business, who or what empowered you? While I don't work directly in design or construction, it's in my blood - my paternal grandfather was a carpenter and my father was an architect. My father designed the house I grew up in, and he and my mother built it. I have fond memories of helping my father in his workshop when he was tackling projects around the house. I was the first girl in my high school to take wood shop and I still have the step stool I made all those years ago.
What are you most looking forward to post-pandemic? Seeing people in person, treating myself to a spa day, and traveling! I am an active member of SMPS Boston and CREW Boston and while they have both done a great job moving programs online, I miss attending events and seeing people face-to-face. Video conferencing is a great tool, but it cannot replace personal contact, in my opinion.