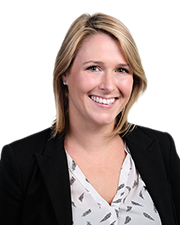 What was your greatest professional achievement or most notable project in the last 12 months? Coming aboard as Timberline's first female senior project manager to help them grow their life science department has been my greatest professional achievement. At Timberline, I get to use my previous work experience on the owner's side and apply it in a new way to build spaces specific to our client's needs and goals. The most notable projects I've worked on have been with Organogenesis at their Canton and Norwood facilities. These projects include an ISO 7 clean room and a cold room renovation – which have been challenging but rewarding components of the job.
Starting out in the construction business, who or what empowered you? I grew up with a single dad who worked construction on the side of his full-time job. He was the one who first sparked my interest in building and encouraged me to get my drafting degree. It was later on that my friend and colleague, Derek McGearty, now a site engineer, recognized my natural ability to visualize designs and work well with trades. Derek believed in me before I saw the potential in myself. He encouraged me to build upon my design foundation and pursue construction.
When you're not busy, what is your go to book or podcast to help you unwind? I love TED Talks, Deepak Chopra meditations and Oprah Winfrey's What I Know for Sure. You can open Oprah's book to any chapter for a good life empowering lesson.