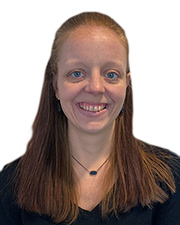 What was your greatest professional achievement or most notable project in the last 12 months? Learning how to keep people safe/productive/grounded in this industry during the pandemic. COVID impacted employees from so many sides: their work lives, home lives, parents' lives, etc., and in some cases it really was life or death.
Starting out in the construction business, who or what empowered you? I never planned to be in construction, I just fell into it as they say. I had always wanted to help people, so I feel that I was empowered by my drive to support others. I'm proud that I can be a resource for our teams, making it easier for them to get on the roof and go out on the roads every day.
What tips or advice would you offer to other women who are considering entering the construction industry? Don't be intimidated! If you are motivated and willing to learn the sky is the limit, regardless of what industry. Also know that there are good days and bad days in every industry, but perseverance will pay off.