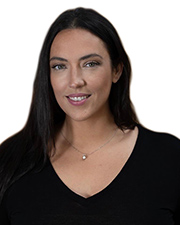 What was your greatest professional achievement or most notable project in the last 12 months? Working on multiple simultaneous projects throughout 2021 has been my greatest achievement. Being able to work through the plethora of challenges that were the consequence of the pandemic whether it be material procurement, supply chain issues, or staffing shortages due to COVID-19; completing projects successfully became much more of an achievement than it had been in years prior.
Starting out in the construction business, who or what empowered you? Being a woman in this industry alone is empowering. There is this pride and comradery between women in construction that is unparalleled.
Within your firm, who has helped you succeed within the industry? How have they helped you? My boss and colleagues are a great team of collaborators who all support each other when called upon. Having such an amazing group of knowledgeable project managers that are always so willing to help out has been the greatest teacher of how teamwork can really make anything possible.
When you're not busy, what is your go to book or podcast to help you unwind? My favorite podcast at the moment is "Secret Keepers Club"
What tips or advice would you offer to other women who are considering entering the construction industry? Be fearless.