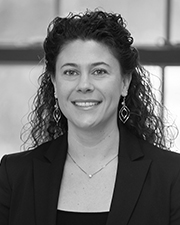 Number of years at firm: 15
One thing on my bucket list: It's a goal of mine to check out every UNESCO World Heritage Site across the world. So far, I've seen Pompeii, Rome, Venice, University of Coimbra in Portugal, Pico Azores, and Ireland – but there are so many more I would like to visit.
When I am not working, I am: Chasing my sons around. At two and four years old, they are a handful and are always keeping me on my toes!
What recent project, transaction or accomplishment are you most proud of? I was recently promoted to historic preservation manager. This marks an exciting next step in my career and I'm really proud of this accomplishment. By sharing my career goals, Shawmut was able to tailor the role for me. Previously I was a senior estimator, so I will still manage the preconstruction process, however I now have the opportunity to be out in the field working with project teams on historic fabric surveys, mockups, sample selections, etc. I am excited to bring this new role to our clients and add value to our projects.
What makes this nominee a RISING STAR?
"Kelly's passion for preservation and her leadership in this space have been evident her entire career. Having worked on Shawmut's most important preservation projects, it's her love of the work, collaboration, and focus on client service that makes her such an important part of every team." - Dan Doherty, Senior Director of Estimating at Shawmut Design and Construction