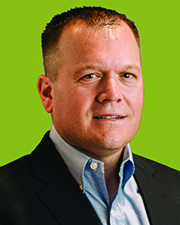 What person, project, transaction or market trend had the greatest impact on your industry this year?
2022 was Vantage Builders' biggest, and busiest, year since the firm's founding 22 years ago. From our perspective, the cannabis industry had the biggest impact to our business. The market continues to grow in the region and we worked on a steady flow of cannabis cultivation, processing and dispensary projects during the year.
What was your most important professional accomplishment or most notable project, deal, or transaction in 2022?
At the beginning of the year, I wrapped up a 100,000 s/f cannabis cultivation and processing facility for GreenCare Collective. That project's completion overlapped with the commencement of a 40,000 s/f cultivation facility for Ethos Cannabis, which is scheduled to be complete at the beginning of 2023.
How has your career path changed in 2022?
My career path took a nice turn this year, when I was promoted from senior project manager to project executive. Transitioning into the new role, which has greater responsibility for the overall direction, completion and financial outcome of projects, has been greatly rewarding. I've also enjoyed working with many new Vantage Builders team members. The firm added more than 20 people this year!