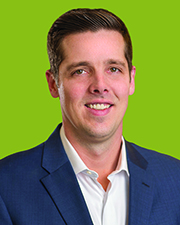 What person, project, transaction or market trend had the greatest impact on your industry this year?
The rapid increase in interest rates has had a dramatic impact on our industry. We are seeing less inventory available for sale and downward pressure on pricing due to the higher interest rates. We have seen buyers and lenders proceed with a more measured approach and an overall softening of demand. The fundamentals of brokerage, underwriting, and purchasing are more important today than in previous years. Although the transaction velocity is not moving at the same feverish pace, there are still deals being made.
How has your career path changed in 2022?
2022 was a record-breaking year for our multifamily team. While my own brokerage career has continued to grow, one of the biggest changes has been in the monumental growth in the careers of those agents we have mentored from their entry into the business. Many of the agents have become market leaders in their respective territories. This year marked several major milestones for them, and I am proud to have been a part of their growth in the industry.