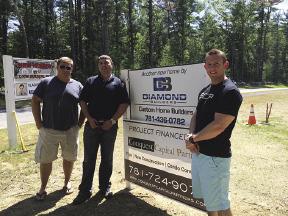 Shown (from left) are: Dmitry Shangin of Diamond Builders; Dmitry Deych of Diamond Builders; and Ryan Gadles of Conquest Capital Partners
Conquest Capital Partners recently closed the largest loan in its 4 year lending history with luxury home builder, Diamond Builders. The deal was inked back in May for the 6 lot subdivision right off of Bay Rd. Dmitry Deych of Diamond Builders agreed to purchase the land from a local developer. Conquest and Diamond worked out the terms of the deal in late May and commenced on the transaction June 23.
The subdivision will be comprised of six custom homes priced at $1 million plus. These custom homes will be marketed by Vladir Frenkel of Remax. This is the 3rd transaction that Diamond and Conquest have linked up on. The first were also new construction in Canton and Sharon totaling more than $3.7 million in real estate sale value.
Ryan Gadles, Conquest's founder was responsible for the loan origination.