Burlington, MA Associated Builders and Contractors of Massachusetts (ABC MA), one of the state's largest commercial construction associations, and the Gould Construction Institute (GCI), ABC's training affiliate, honored this year's Safety, Training, and Evaluation Process (STEP) award recipients at the 15th Annual ABC/GCI Safety & Education Dinner at the Burlington Marriott.
The Safety & Education Dinner is ABC/GCI's premier event, celebrating our member companies' commitment to worker safety and training, the talented instructors dedicated to providing construction and safety training to the next generation of industry leaders, and the students working long hours during the day and attending classes at night to improve their knowledge and skills. "This is a night to recognize our students and their employers who continue to raise the standards of safety, training, and education in the construction industry," said GCI president Julie Kelliher.
The STEP Awards were the highlight of the evening. This year, 60 ABC member companies were recognized for their outstanding commitment to jobsite safety. "By drawing attention to the importance of jobsite safety we make sure that it is not taken for granted," Kelliher said. "The bottom line is that we are nothing without safe, healthy workers."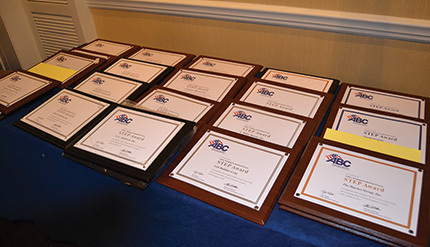 2019 STEP AWARD WINNERS
Diamond Award
JM Coull, Inc.
MJM Masonry, Inc.
Windover, INC
Zampell
Platinum Award
Avary R.T.G., Inc.
B.W. Kennedy and Company, LLC
CIANBRO
DECCO, Inc.
Energy Electric Co, Inc
Enterprise Equipment Co., Inc.
EnviroVantage, Inc.
Erland Construction, Inc.
Maguire Company, Inc.
R & R Window Contractors, Inc.
Rivers Electrical Corp.
W.T. Kenney Company, Inc.
Williams Building Company, Inc.
Gold Award
AvalonBay Construction
Bald Hill Builders, LLC
Bowdoin Construction Corp.
Callahan Construction Managers
Cutler Associates, Inc.
Dellbrook - JK Scanlan
Elm Electrical, Inc.
Florence Electric, LLC
Forish Construction Co., Inc.
Interstate Electrical Services Corp.
Kaplan Construction
Methuen Construction Co., Inc.
Metro Walls, Inc.
Nauset Construction Corp.
NEL Corporation
North Shore Mechanical Contractors, Inc.
NorthStar Construction Services
Notch Mechanical Constructors
R.H. White Construction Co., Inc.
Ryan Construction, Inc.
The Middlesex Corporation
Silver Award
Breen & Sullivan Mechanical Services, Inc.
C. White Marine, Inc.
Colt Builders Corp.
Electrical Dynamics, Inc.
Fernandes Masonry, Inc.
J. Lawrence Hall Co., Inc.
L. C. Anderson, Inc.
Lake HVAC, Inc.
Medford Wellington Service Co.
Professional Electrical Contractors of CT, Inc.
RALCO Electric, Inc.
The RELCO Companies
Tocco Building Systems
United Steel, Inc.
Bronze Award
M.J. Moran, Inc.
Optiline Enterprises, LLC
The Haynes Group, Inc.
PARTICIPANT AWARD
Denron Plumbing & HVAC, LLC
Premier Fence, LLC
Shawnlee Construction, LLC
Tenant Systems
STEP is a national ABC program that provides safety benchmarking and improvement tools that has been shown to dramatically improve safety performance among participating companies. Established in 1969, STEP was developed and written by contractors, for contractors. Companies measure their safety performance and policies through a review of 20 key components with a goal of enhancing safety programs and reducing jobsite incident rates.
The evening also recognized some 26 graduating students in attendance, as well as the more than 85 dedicated GCI instructors who work tirelessly throughout the year across nine Massachusetts locations.
A $2,500 ABC Building Our Future Scholarship was presented to Harrison Carter, an employee at E. M. Duggan Mechanical Contractors and recent graduate from Canton High School who is entering the University of Massachusetts Amherst this fall to pursue a major in building and construction technology.
Also recognized was Anthony Flanagan from Nardon Electrical Corp, Matt Costello from Notch Mechanical Constructors, and Sean O'Dowd from DECCO, who all recently competed at National ABC Craft Champions in Long Beach, CA. Sean O'Down took home the gold medal for pipefitting to become a world class champion.
ABC and GCI congratulate this year's winners for their commitment to producing quality work in a safe and responsible manner and thank everyone who attended this amazing event.
Visit us at www.abcma.org. GCI is the training affiliate of the Mass. chapter of Associated Builders & Contractors.
For more information about GCI and their course offerings, please visit gwgci.org.
Associated Builders and Contractors (ABC) is a national construction industry trade association representing nearly 21,000 chapter members. The ABC MA Chapter represents 450 firms across the state. Founded on the merit shop philosophy, ABC helps members develop people, win work and deliver that work safely, ethically, profitably and for the betterment of the communities in which ABC and its members work.