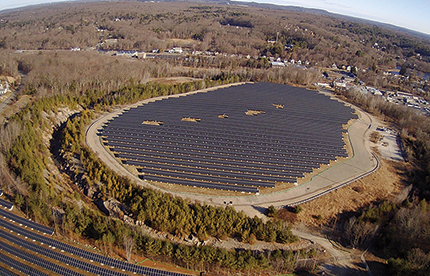 Ashland, MA Aldon Electric, Inc. has completed electrical construction of the 5.8MW ground-mount solar array project on a 12-acre capped landfill, a Superfund Site, located at 50 MBTA Access Rd. Aldon Electric, a NECA contractor, teamed with general contractor CS Energy; electrical engineer RLC Engineering; and the owner Ashland Solar, LLC.
The utility scale solar project is comprised of the installation of 15,562 ballast-mounted PV modules manufactured by Boviet Solar USA, and 26 combiners which feed into three central solar inverters.
Aldon Electric's project manager John Michael and foreman Tony Michael headed the project team, managing a crew of 57 IBEW Local 96, Local 223 and Local 103 electricians in the fast-tracked three-month project. The NECA contractor commenced work in October 2019. The capped landfill solar project required daily monitoring of ground disturbance by the Department of Environmental Protection.
The Ashland solar project went on the grid in January 2020.