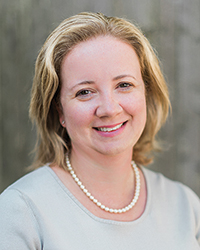 Boston, MA Heidi Aliski, LEED AP has joined Kaplan Construction as a project manager.
With over 17 years in the design and construction industry, Aliski started her career as a designer/drafter and intern architect before moving into project management for construction companies. Her background gives her a unique perspective on the design and construction process, one that will serve her well as she works with owners, architects, and engineers to ensure Kaplan projects are built in accordance with construction documents.
In addition to developing and overseeing Kaplan proposals, cost estimates, materials, and schedules, Aliski will be responsible for project phasing and logistics plans, coordinating personnel, conducting contract negotiations, and working closely with all project stakeholders.
Prior to joining Kaplan Construction, Aliski was a project manager at Erland Construction and an assistant project manager at TLT Construction Corp. Over the years, Aliski has worked on projects such as the R&D Center for Beaver Country Day School; a dining and academic center for the Fenn School; and the 3rd Ave. redevelopment in Burlington.
Previously, she was an intern architect at Design Partnership of Cambridge iand a designer/drafter at Gorman Richardson Architects.
Aliski earned a Bachelor of Science degree in architectural engineering technology from the University of Hartford and a certificate in construction management from Northeastern University.
"Heidi brings a strong background at both design and construction firms, which we feel will benefit our clients on multiple levels," said Nate Peck, president of Kaplan Construction. "Our work has always been driven by the needs of our clients and we feel Heidi's project experience dovetails nicely with our portfolio of projects and service offerings. We are excited to welcome Heidi to our team."