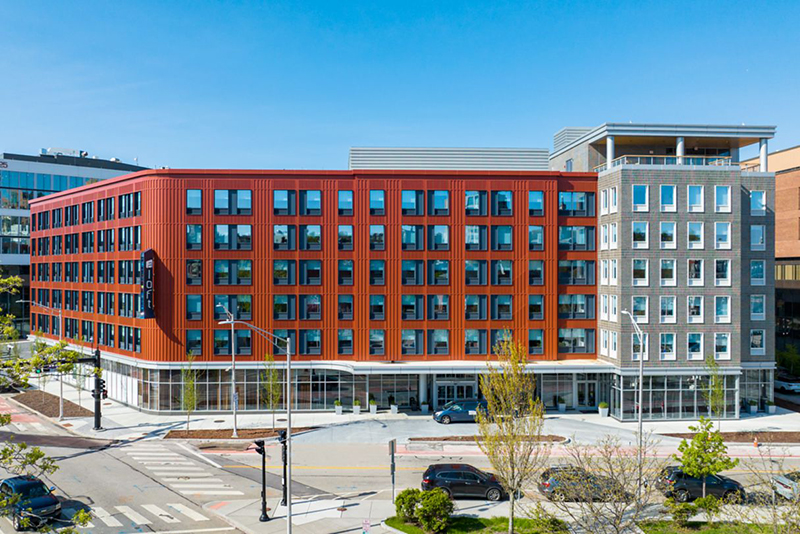 Providence, RI Marriott International has awarded the Aloft Providence Downtown the brand's "Opening Hotel of the Year". The design-driven. hotel located at 191 Dorrance St. is owned by CV Properties and Boston Andes Capital and managed by Marriott International, Inc.
Shawmut Design and Construction completed the construction of the $55 million Aloft Providence Downtown hotel in the capital city's Innovation & Design District, which broke ground in January 2020 and was designed by Elkus Manfredi Architects.
The award recognizes one newly opened Aloft hotel each year thatdemonstrates the highest in areas of leadership, guest satisfaction, financial performance and associate engagement. The Aloft Providence Downtown achieved 100% of its staff members to complete courses on customer service, safety and brand knowledge.
The hotel features 175 rooms whose design reflects the energy and spirit of new technological developments. The ground floor features open and vibrant spaces, meant to bring people together — including meeting rooms, gathering spaces, a fitness center, a grab-and-go food alternative, a lobby bar with outdoor patio, and a rooftop bar overlooking the city's skyline.
The exterior façade of the 101,000 s/f hotel, managed by Marriott International, consists of a mixture of materials — including a combination of brick façade on the north wing and corrugated metal paneling on the south wing. These façade materials are accented with punched curtain wall windows and vertical accents.
Located in the city's waterfront park and pedestrian bridge known as the Innovation & Design District, the. hotel. is near Brown University, WaterFire Providence, RISD Museum, Providence Performing Arts Center, Johnson & Wales University, and numerous shopping, dining and entertainment options.