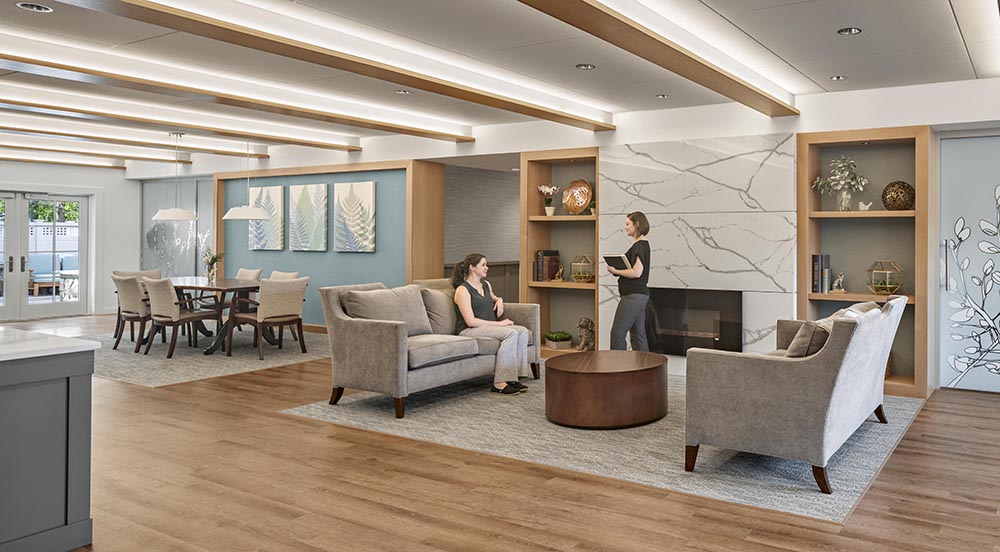 Hartford, CT Amenta Emma has been honored with two awards in the 2018 Boston Society of Architects/AIA design awards program. The Burnham Family Memory Care Residence at Avery Heights received a Healthcare Facilities Design Award, and the Quinnipiac University Brand Strategy Group received an Interior Architecture/Interior Design Award.
Avery Heights is a 45-acre Life-Plan Community, but its 26-year-old facilities had no space or services for an increasing population of residents suffering from dementia. The renovation of a 10,000 s/f independent living apartment wing now provides a secure memory care environment for a population previously closed off to opportunity and allowing them to be in an active, engaging living space.
The Amenta Emma design team's approach to the transformation of a 19th century house for the Quinnipiac University Brand Strategy Group involved a radical opening of the interior spaces of the house. The result is a collaborative contemporary environment for the organization, which is responsible for the university's marketing, communications, brand identity, and digital initiatives.