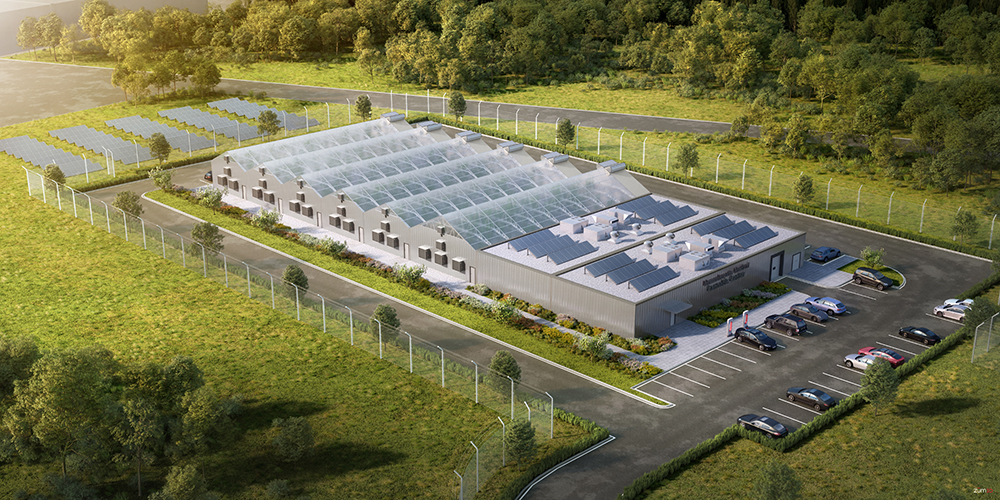 Freetown, MA AmeriCann, Inc., an agricultural-technology company that is developing the next generation of eco-friendly greenhouse cannabis cultivation and processing properties, has released designs for Building 2 which includes 345,000 s/f of cannabis manufacturing and cultivation infrastructure at its 52-acre Massachusetts Medical Cannabis Center (MMCC).
The configuration of Building 2 includes 100,000 s/f of dedicated cannabis extraction, processing and product manufacturing space and 245,000 s/f of cultivation infrastructure. The dedicated cultivation facilities are designed to utilize AmeriCann's proprietary greenhouse system called Cannopy. The design of Building 2 of the MMCC, which is 345,000 s/f, will include three distinct units:
• Unit A: 184,720 s/f cannabis cultivation facility;
• Unit B: 40,178 s/f extraction and product manufacturing facility; and
• Unit C: 118,580 s/f cannabis cultivation facility.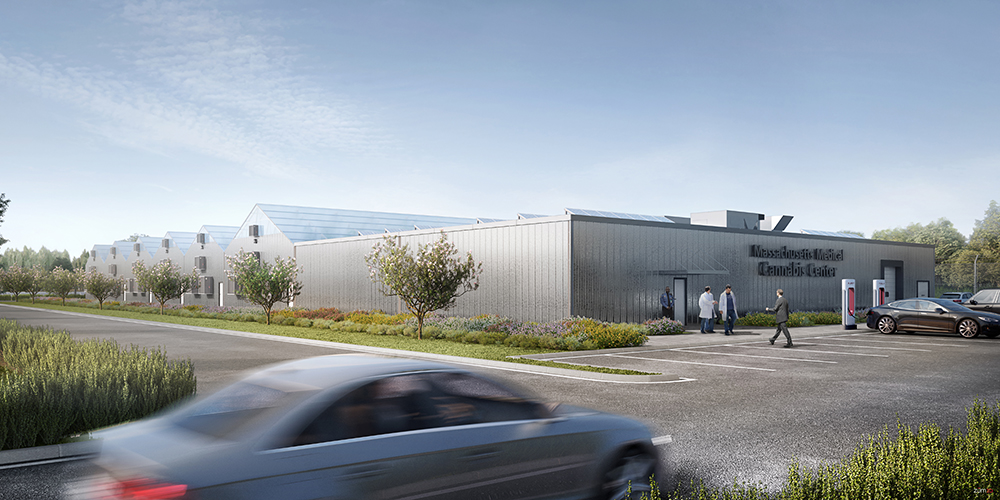 AmeriCann will own and operate Unit B which is designed to provide extraction and product manufacturing support to the entire MMCC project, as well as to other licensed cannabis farmers throughout the state. In addition to large-scale extraction of cannabis plant material, AmeriCann plans to produce branded consumer packaged goods including cannabis beverages, vaporizer products, edible products, non-edible products and concentrates at the facility.
The company has already commenced construction on the first phase of the 1 million s/f multi-phase MMCC project with a 30,000 s/f cultivation facility.
AmeriCann plans to replicate the brands, technology and innovations developed at its MMCC project to new markets as a multi-state licensed operator.
Infused products are becoming an increasingly larger segment of total cannabis sales in regulated markets. According to the Wall Street Journal, "Interest in cannabis as an ingredient in food and drinks in on an upswing; beer brewing giant Constellation Brands, Inc. recently took a $4 billion stake in Canadian marijuana grower Canopy Growth Corp., which makes cannabis infused drinks and other products."
Industry experts believe that the pending Massachusetts adult-use market, in conjunction with its existing medical program will exceed $1 billion by 2020. As the first approved adult-use cannabis market on the Eastern U.S., Massachusetts has the potential to become the epicenter for cannabis innovation and research.