Freetown, MA AmeriCann, Inc., a cannabis company that is developing cultivation, processing and manufacturing facilities provided a construction update for its flagship Massachusetts Medical Cannabis Center (MMCC.)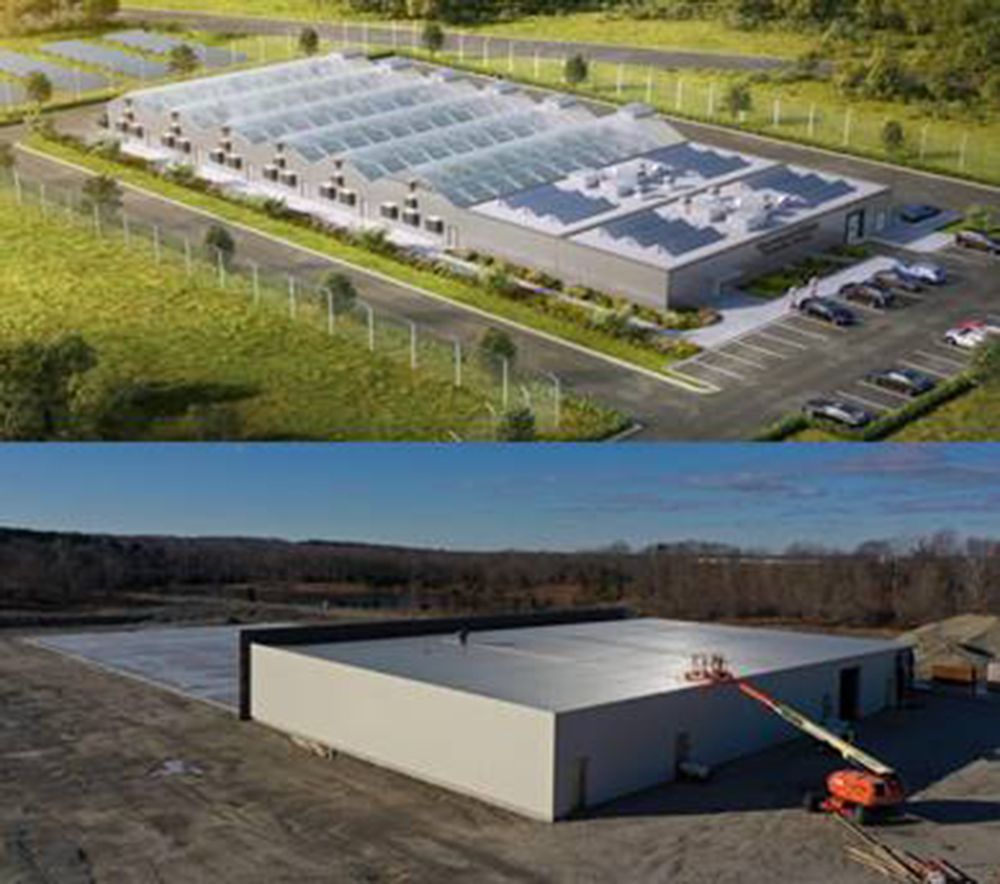 Construction of the MMCC project is moving forward rapidly, with millions of dollars already invested in site preparation, concrete, and steelwork. More than a dozen companies have been retained for construction of the facility which is being overseen by CBRE on behalf of AmeriCann.
The construction of Building 1, a 30,000 s/f cultivation and processing facility, is scheduled for completion this summer. The entire building will be 100% leased by an existing, vertically-integrated Massachusetts operator Bask, Inc. The Building 1 project cost is $7.5 million and is expected to create 30 new direct jobs in the area.
The state-of-the-art greenhouse is scheduled to be erected this month adjoining the topped off building, with a completion date for the facility this summer.
The MMCC is being developed on a 52-acre parcel located in Southeastern Mass.. The MMCC project is permitted for 987,000 s/f of cannabis cultivation and processing infrastructure, which will be developed in phases, and plans to support both the existing medical cannabis and the newly emerging adult-use cannabis marketplace.
AmeriCann plans to replicate the brands, technology and innovations developed at its MMCC project to new markets as a licensed multi-state operator (MSO).
"The topping off of Building 1 represents an important milestone for AmeriCann," said company founder Ben Barton. "Although Building 1 is only the initial phase of the overall MMCC development, it is on schedule to provide AmeriCann with significant revenue and cash flow."
On January 8th, Bask, Inc. and AmeriCann Brands, Inc. a subsidiary of AmeriCann, received approval on their host community agreements (HCA) from the Freetown Board of Selectmen to operate environmentally sustainable cannabis cultivation and processing facilities. The HCA does not require any percentage of revenue from the operators at MMCC. The no-fee agreement will be used for all joint venture partners at MMCC. This favorable HCA will provide operators at the MMCC with a distinct competitive advantage compared to operators that are required to pay 3% or more of revenue to host communities
As the first approved adult-use cannabis market on the Eastern U.S., Massachusetts has the potential to become the epicenter for cannabis innovation and research. Annual recreational retail sales in Mass. are expected to total $1.3 billion - $1.6 billion in a few years, according to Marijuana Business Daily estimates.