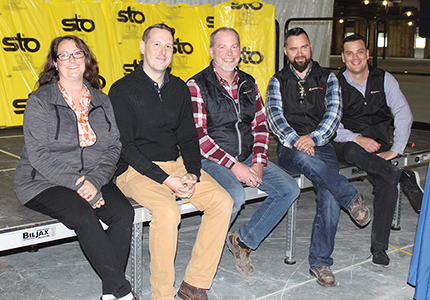 Wilton, NH Atlantic Prefab Inc. (API) hosted their first Commercial Prefab Summit. API, a leader in commercial prefab, metal trusses and specialty panels, created this event as an opportunity to educate potential clients on the benefits of prefab and tour their facility.
Over 60 industry professionals including architects, engineers and general contractors, some from as far as Arizona, attended this event.
Presenters included, Tim Salerno from Sto Panel, Andrew Hudson from Jersey Panel and Mark Jarvinen from Simpson Strong-Tie. These presentations offered AIA and General Education credits to attendees and also provided education on the benefits of prefab for commercial construction.
In addition to speakers, vendors set up tables at the event and offered product samples and some great giveaways. Vendors included, Dri-Design, EB Metal, Kamco, Simpson Strong-Tie and Star Sales. These booths were available during lunch and helped make this gathering even more interactive.
API gave a special thanks to sponsor and long-time supplier EB Metal for sponsoring lunch for this summit.
"From labor cutting to precision to significant time saving, there are so many benefits to commercial prefab. This event made it possible for us to educate potential clients on these benefits and show off our facility. It was a great turn out and we are really happy with the outcome of our first summit," said Mark Beroney, president of Atlantic Prefab.