Moltonborough, NH In late December 2017, one of New Hampshire's largest solar PV array went online, as NECA New Hampshire Division electrical contractor, Ayer Electric, Inc., completed installation of the 2.59MW solar project for utility company New Hampshire Electric Cooperative (NHEC).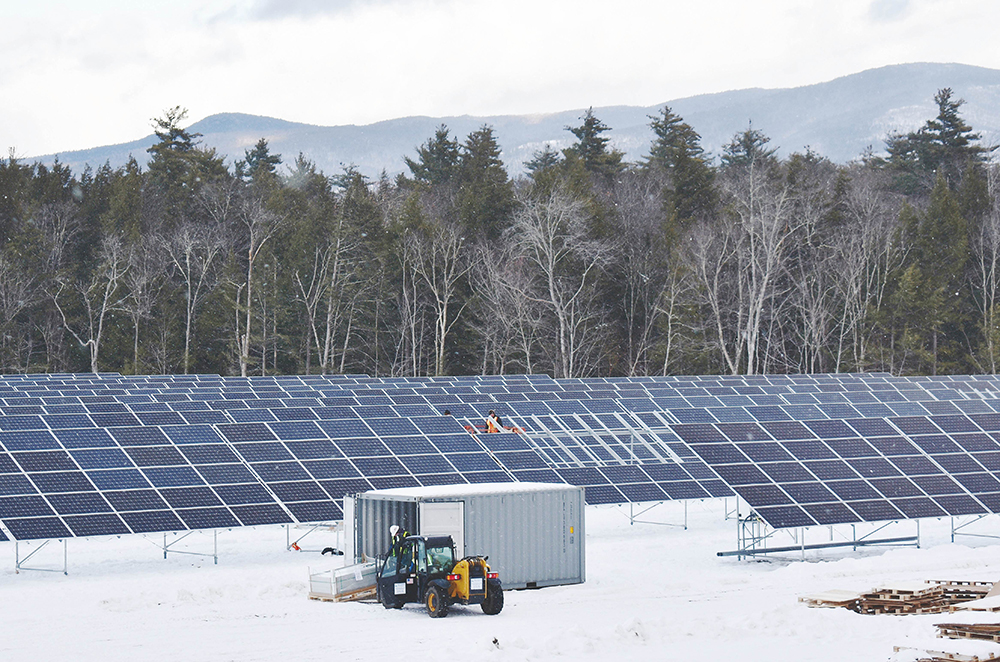 The photovoltaic (PV) array is comprised of 7,200 solar panels installed across nine acres of a 13-acre site and wired to a NHEC substation in town. The project scope included Ayer Electric's installation and wiring of 40 480V-AC inverters, which feed a NHEC transformer. The inverters are installed on steel framing and are rated for exterior use. All underground conduit was installed on the remote and secluded site.
Ayer's final phase of work was performed durng the severe December cold snap, as the electrical team provided wire management, which included a comprehensive and detailed tie-in check list for the 7,200 solar panels.
The solar site is projected to generate 3.5 million kWH of electricity per year, enough to power approximately 600 homes and will save NHEC more than $280,000 annually in power costs. The green energy project will dramatically help the region's electricity demands during peak use in the summer.
Ayer Electric handled the project working as a subcontractor to general contractor Ameresco. Ameresco supplied the solar panels and a Terrasmart racking system.
Ayer managed a field crew of 25 to 30 IBEW Local 490 electricians, based out of Concord, NH, in the fast-track, three month project. The Ayer management team, headed by Project Supervisor Todd Sanborn and Project Estimator Frank Ganter worked in close cooperation with NHEC project engineer Gary LeMay and Ameresco project manager Nabih Younis.
"The Moultonborough solar project is important for NHEC and its customers, and Ayer Electric is pleased to have worked to have worked in tandem with Ameresco in its installation. Our Local 490 crew did a skillful job throughout the project, and especially in extremely harsh weather conditions, to meet the project scope and timeline," said Ganter.
The NHEC Moultonborhough solar project is a Davis Bacon project, funded by New Clean Renewable Energy US Bonds.
Ayer Electric is New Hampshire's largest solar installation company (excluding solar developers). The electrical contractor installed 4.224MW of solar power in 2017 and has tripled its solar production each year since 2014.