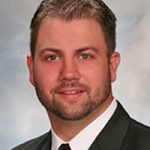 Tony Barnes,
BARNES Buildings
& management group
Weymouth, MA BARNES Buildings & management group, inc., a leading steel construction specialist serving general contractors, developers, and owners throughout New England, has promoted Tony Barnes to vice president of operations.
The new position will require his management of the company's field personnel, scheduling, and operations. He will also retain his duties as general manager of their steel fabrication division.
"Tony has developed a comprehensive understanding of our field operations over the past two decades in his various roles from ironworker to general manager, and it is with great pleasure and pride that we offer him this well-deserved promotion to join the executive team," said Marty Barnes, president of BARNES Buildings.
He has been employed full time with BARNES Buildings for the past 18 years, and started working with the organization on a part-time basis as an ironworker in the field when he was 16 years old.
For the past 9 years, he has been responsible for the opening and general management of the BARNES Buildings steel fabrication operation based in Hanover.
Tony also serves as the current president of the New England Chapter of the Metal Building Contractors & Erectors Association (MBCEA). MBCEA is a national trade organization that promotes the professional advancement of its members and the industry.
BARNES has been serving contractors, developers and owners since 1996. They furnish and erect engineered steel/ metal building systems, fabricated structural & miscellaneous iron, and insulated metal wall & roof systems. As a single source provider BARNES can supply their customer with a complete building system envelope inclusive of design, steel framing, metal walls and roofing, along with any fabricated miscellaneous iron products required.