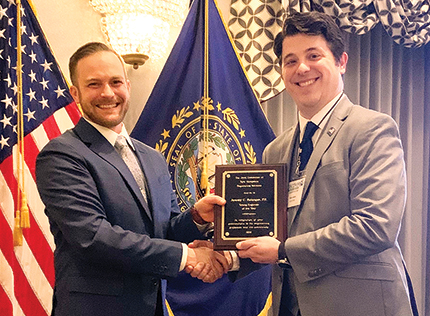 Concord, NH TFMoran's senior project engineer Jeremy Belanger, PE has been selected by a jury of his peers from New Hampshire's Joint Engineering Societies as the 2020 New Hampshire Young Engineer of the Year. This award was presented to Belanger on February 19th at the 69th Annual Engineers' Week Awards Banquet & Exhibition at the Grappone Conference Center. The American Society of Civil Engineers – New Hampshire Section (ASCE-NH) submitted his nomination not only for his involvement in ASCE-NH, but for his outstanding work ethic, his integrity as a young professional, his enthusiasm for the civil engineering profession, and his volunteerism in giving back to the community.
Belanger has a BS in Civil Engineering and a MS in Civil Engineering/Water Resources from the University of New Hampshire. In his nearly five years with TFMoran, Belanger has made himself indispensable with his tireless work ethic, professionalism and enthusiasm for each assignment. His efforts have not gone unnoticed, as he was recently promoted to senior project engineer, making him the youngest to achieve such a title in TFMoran's 50+ years of operation.
At TFMoran, Belanger is responsible for the engineering design and permitting of land development projects and has experience in site planning, drainage design, sewer design, and local and state permitting for residential, commercial, industrial, municipal and energy projects.