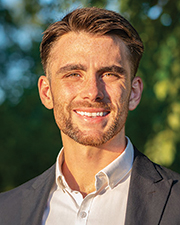 Hyannis, MA Commercial Realty Advisors has hired a new associate to their team. Commercial real estate agent Michael Belmore has joined the local office.
Belmore began his professional career with the Danish ship-owner Dampskibsselskabet Norden A/S. The company owns large oil vessels (tankers) shipping clean and dirty petroleum products worldwide. He worked his way up from trainee to chartering manager and was transferred to the company's headquarters in Copenhagen, Denmark. His main responsibilities were vessel pricing negotiations, logistics, and complicated contract formation with customers such as Exxon, BP, Chevron, and Shell.
Always having a passion for real estate, Belmore switched gears and became a full-time real estate professional. His focus is commercial real estate and helping businesses and investors achieve their goals through information, guidance, strategies, and resourcefulness.
In 2016 he received a professional degree in Commercial Shipping from the Institute of Chartered Shipbrokers in London.
Belmore currently holds a B.S in International Maritime Business from the Massachusetts Maritime Academy in Buzzards Bay.
Growing up on the Cape, Belmore is excited to be back and help contribute to the local community. He lives in Dennis with his finance Lucia and pup Cali.