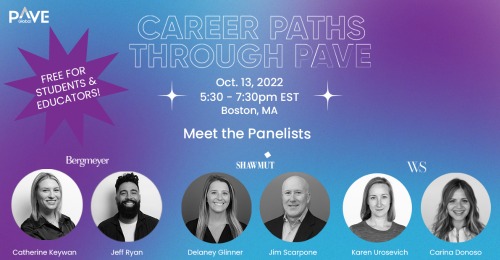 Boston, MA On Thursday, October 13th, 2022, Boston area students and educators are invited to join PAVE Global in bringing together celebrated thought leaders and emerging professionals from the retail industry with students and educators to create meaningful connections at its first-ever regional event, Career Paths through PAVE.
Industry professionals will share their unique career pathways while students have the opportunity to explore the many career trajectories available in bringing retail store environments to life - including design, architecture, construction, and real estate development.
"For 30 years, PAVE has been dedicated to mentoring, connecting, and inspiring students, educators and industry professionals involved in the creation of commercial environments," said Rachel Zsembery, President of Bergmeyer and Vice President of PAVE Global. "This event in Boston is an opportunity for students and industry professionals to network together while supporting PAVE's mission of providing scholarships, educational programming, student mentorship experiences, and need-based student aid to the students who will become the future leaders of our industry."
Registration is free of charge for students and educators, with additional sponsorship opportunities available as well as individual ticket sales. Sponsored in partnership by Bergmeyer, WS Development, and Shawmut Design and Construction.
DATE: Thursday, October 13th, 2022
TIME: 5:30PM - 7:30PM
LOCATION: Shawmut Design and Construction, 560 Harrison Avenue, Boston, MA 02118
REGISTER: https://www.paveglobal.org/careerpaths
Students and Educators - registration is complimentary, sponsored by WS Development
Individual Tickets - $50
Supporting Sponsor Opportunity - $500 (100% of this sponsorship is directly dedicated to the Fall 2022 PAVE Student Aid Fund and includes two event tickets + logo recognition on materials)