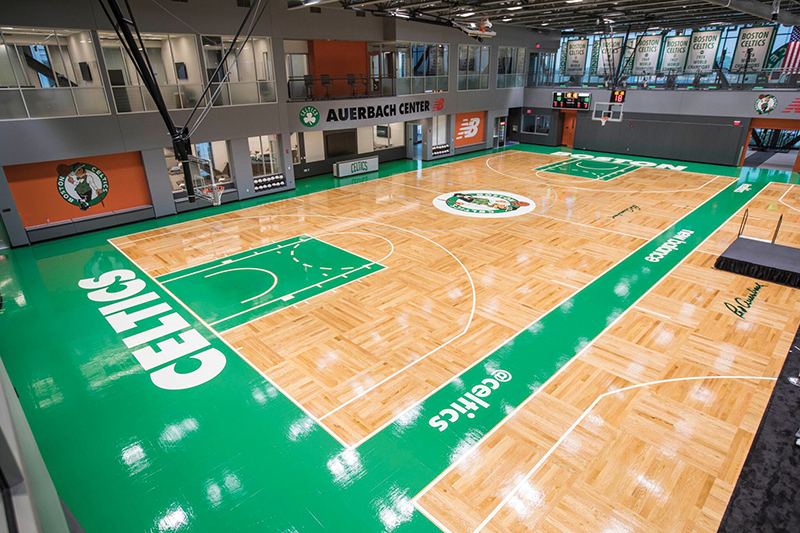 Boston, MA The 17-time NBA Champion Boston Celtics together with New Balance Athletics and NB Development opened the Auerbach Center at New Balance world headquarters as the team's official practice facility. The 70,000 s/f structure at Boston Landing has best-in-class technology and equipment across strength and conditioning, recovery, sports science, and nutrition - each geared towards optimizing athlete performance.
The Auerbach Center, or "Red's House," is the centerpiece of the wide-ranging initiative between the Boston Celtics and New Balance. The relationship includes a shared focus on performance, innovation and community give-back, and has its origins in a little-known but formative friendship between the patriarchs of the two Boston institutions.
The bond dates back to the late 1970s, when Arnold "Red" Auerbach, then the president and general manager of the Boston Celtics, served as a mentor to current New Balance chairman, Jim Davis. The two entrepreneurial minds met regularly to share thinking on establishing winning cultures for their respective organizations. That sprit remains intact and informed every aspect of this collaboration.
"The Auerbach Center will be the foundation on which future great Celtics teams will be built," said Wyc Grousbeck, Boston Celtics governor and managing partner. "We are so glad to honor Red, the architect of Celtic pride, in this way, and to work with New Balance to build this stunning facility."
"New Balance is extremely proud to join with the Boston Celtics in honoring Red Auerbach's professional achievements and personal values of teamwork and integrity through the opening of 'Red's House' at Boston Landing," said Davis "Red Auerbach was a true entrepreneur whose passion for winning and dedication to the sport of basketball and the Boston Celtics was equally matched with his commitment to people and the Boston community."
"Boston Landing is a great example of successful collaboration between the private and public sector to expand development opportunities for the Allston-Brighton community," said governor Baker. "Our administration has been pleased to play a role in this area's expansion and we look forward to seeing the Boston Celtics and New Balance open the Auerbach Center to honor Red Auerbach's legacy and use the space to build leaders on the court and in the community."
"Red Auerbach's legacy burns bright in Boston, and nowhere is that more evident than right at Red's House," said mayor Walsh. "This new facility brings our Celtics home, so they won't justbe winning in Boston, but they'll be training in Boston as well. I thank the Celtics and New Balance for making Boston a championship city, for earning the banners, for honoring Red's legacy and putting an emphasis on community, making sure the spirit of the team also extends into Boston's neighborhoods."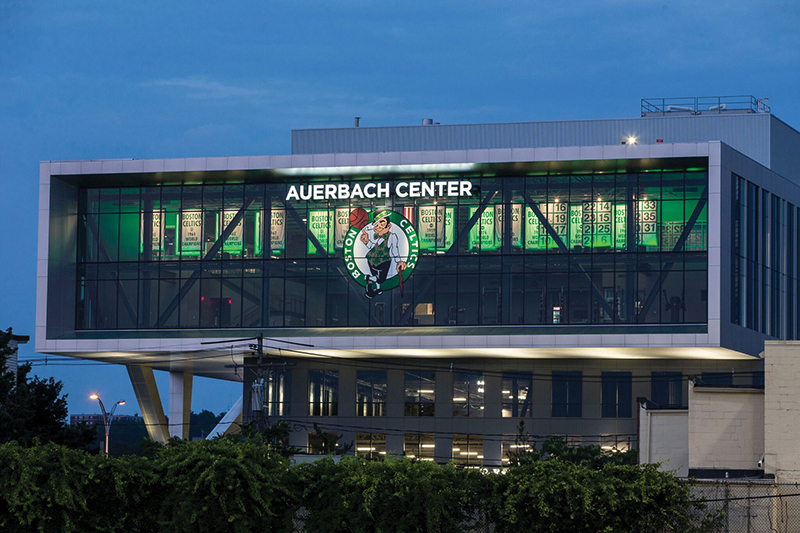 State-of-the-art Facility
The 70,000 s/f Auerbach Center is a striking addition to Boston Landing, cantilevered 55 feet in the air out to the edge of the Mass. Pike and its hundreds of thousands of weekly commuters. It features a 40-foot glass wall that overlooks the practice courts and replicas of the team's 17 NBA Championship banners.
The comprehensive training facility has a wide range of features to optimize player performance, health, and recovery, as well as build team camaraderie, through the integration of:
• two full-sized parquet floor NBA basketball courts
• sports science lab and performance equipment, including floor-embedded force plates,
• and other systems for detailed player-performance data collection
• expanded strength and conditioning, training, and recovery facilities, including a 40-foot
• exercise pool, hydrotherapy pools, and a float tank
• medical exam room with GE Medical Imaging and measuring equipment
• specially attuned energy efficient GE lighting systems
• full commercial kitchen and nutrition facilities
• leading edge audio-visual technology throughout the facility
• best-in-class players' locker rooms, auxiliary men's and women's locker rooms, players'
• lounge, and nap room
• expanded media work room, press conference, and broadcast facilities
• flexible hospitality area designed for community relations activities, partner gatherings,
• and other guest events
• enhanced work space for the team's coaching and basketball front office staffs
Commitment to Community
One of the many shared values between the Boston Celtics and New Balance is a commitment to community. In keeping with this joint mission, the Celtics worked with New Balance Foundation to renovate the basketball court at the West End House Boys & Girls Club in Allston.
Celtics head coach Brad Stevens lead a basketball clinic at the Club on June 21 to celebrate the renovation. This was one of several community initiatives on which the organizations will collaborate.
World Class Collaboration
A project of such scale and significance can only be completed by a world-class team working in perfect collaboration. The following vendors made valuable contributions as part of this team: NB Development Group, Elkus Manfredi Architects, John Moriarty & Associates General Contractors, BR+A Engineering, GE, Lucinda Loya Interiors, Erik Rueda Design, SMMA Architects, AECOM Architects, Connor Sports Flooring, Kenvo Flooring, Goodwin, Posternak Blankstein & Lund LLP and CBRE.