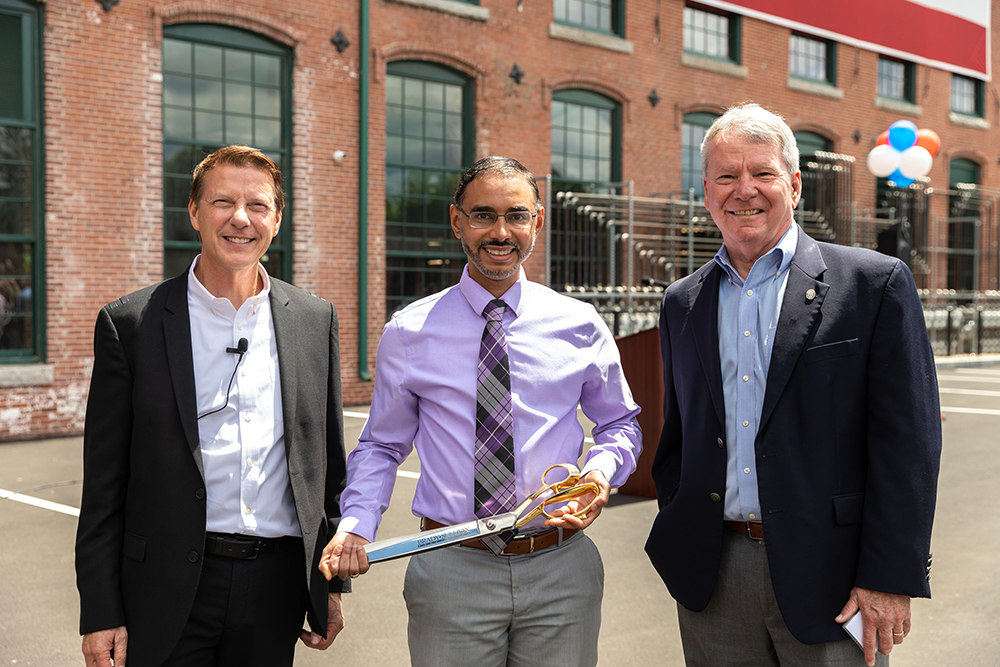 Lawrence, MA Arthur Sullivan and Shane Brady, principal partners of Brady Sullivan Properties hosted a grand opening event to more than 75 guests to celebrate the renovation of Pacific Mill Lofts.
Pacific Mill Lofts, located at 300 Canal St., is comprised of three renovated mill buildings that are now home to 345 loft apartments in Buildings 1, 6, and 8. These one, two and three-bedroom units have been designed to capture the building's historic architecture, with soaring ceilings, bright, over-sized windows, original wood flooring, and exposed brick and beams. Each unit has a modern kitchen, in-home washer/dryer, and designer finishes throughout.
"The Pacific Mills date back to 1853 and were known for the production of women's dress goods in wool and cotton, spinning more than 200,000 spindles by 1895," said Sullivan. "We are proud to continue the Pacific Mills' story with a renovation that not only preserves the historical integrity of the property, but revitalizes the community with a new, modern space to call home."
The grand opening featured a 90'x50' American flag hung on the backside of Building 1, national anthem performed by Bella Porretta a junior at Catholic Central High School, guest speakers mayor Kendrys Vasquez and John Clayton from the Manchester Historic Association, and in honor of Memorial Day, Brady Sullivan Properties donated $5,000 to Veterans Northeast Outreach Center.