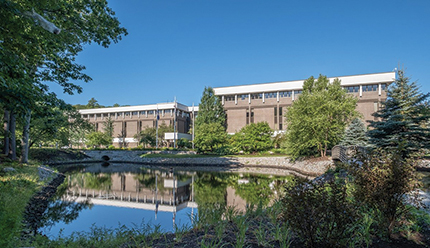 Concord, NH Brady Sullivan Properties purchased the 210,000 s/f One Granite Place in a continued expansion of its office, industrial, retail, and residential portfolio throughout New England.
Comprised of two interconnected mid-rise office buildings, One Granite Place is situated on a landscaped and wooded campus totaling over 181 acres. Vacant at the time of the acquisition, the South Tower (114,000 s/f) presents repositioning and redevelopment potential for Brady Sullivan. The North Building (96,353 s/f) is leased. Initial marketing efforts will highlight full floor leasing opportunities.
The property was purchased for $3.4 million from Lincoln Financial Group.
The purchase in the Granite State's capitol marks the latest in a series of acquisitions by Brady Sullivan Properties. The group will be pursuing multiple paths for value-add repositioning out of the gates, with large contiguous floor plates offering showpiece Class A office headquarters space, as the building's campus setting lends itself nicely to the potential for mixed-use.
Speculating in all facets of commercial & residential real estate, Brady Sullivan Properties has grown into one of the region's most active developers. As the portfolio has grown, so has the company's bandwidth. Prospective tenants benefit from BSP's in-house architects, space planners, and interior designers, readily available at no charge. Construction capacities in-house present turn-key opportunities for office, industrial, and retail tenants alike, with exceptional value created by way of economies of scale.