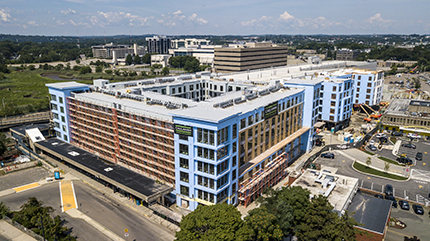 Quincy, MA Callahan Construction Managers (Callahan) continues construction at The Abby. The project aims to rejuvenate the city by redeveloping a bus depot and parking lot into a multi property complex featuring luxury apartments, retail space, and a new parking garage. The project is designed by ICON Architecture and is owned and developed by Bozzuto.
Work has been progressing quickly at The Abby. The core and shell of the retail space was completed on 9/11 and Building A façade finishes are substantially complete. The interior elevated courtyard hardscaping and landscaping is well underway with completion scheduled for late fall. Building A residential units are proceeding with final finishes approaching completion for occupancy in early spring 2021. Building B post tension concrete is underway, with the completion of the 20" slab over the drive through area last week. Work to support the columns and walls on the third level are underway now.
When completed The Abby will feature four buildings with 610 high-end apartments and 50,200 s/f of retail space, as well as more than 1,500 parking spots, of which 852 will be reserved for commuters.
Residents will have access to amenities including two outdoor courtyards, pool deck, club lounge, commercial kitchen, and fitness center with yoga and spin classes.
The residential portion of the project will be delivered over two phases with the first units available for occupancy in May of 2021 and the second phase in January 2022. The North Quincy Station Redevelopment project is scheduled to be completed by Spring 2022.