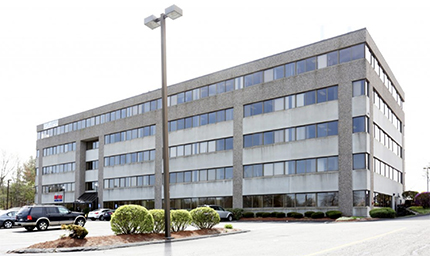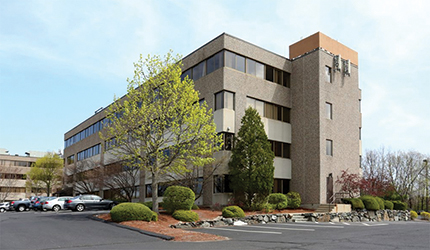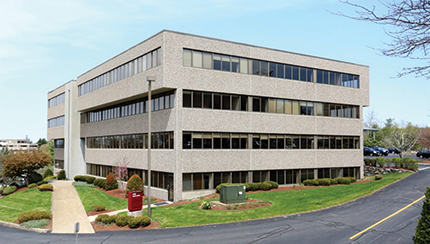 Marlborough, MA R.W. Holmes Commercial Real Estate has worked with CB Equities in the signing of 39 leases at Knowledge Park since 2018. R.W. Holmes assisted CB Equities in purchasing the three-building (2, 4-5 Mount Auburn Ave.) office park and subsequently aided them and Dartmouth Property Management in completing renovations. The 162,000 s/f former Mount Royal Office Park sits on the on ramp to I-495, providing employees of the park with access to the interstate as well as Rte. 20.
Tenants are taking advantage of all the improvements in the park including upgraded common areas throughout all three buildings, new glass entryways, new fitness center with locker rooms and showers, along with the club room, conference facilities, and outdoor patio. The club room has beer on tap via an iPourIt station, a Starbucks coffee machine, WiFi, and open and private seating areas including conference rooms that give tenants the opportunity to break out of their own office space. "These are the types of amenities discerning employees are looking for." said John Conley, one of the owners of the office park.
"Our goal is to give tenants a place where they want to collaborate and hang out. With the modern fit outs and amenities, we have brought to the park, coupled with numerous amenities within walking distance, tenants will be in a much better position to recruit/retain top talent," said president of Dartmouth Property Management Bob McNamara.
New companies coming into the park are in the health, recruiting, software, HR, technology, and legal fields. "We are seeing a lot of activity come through, and perspective tenants have been able to see firsthand the transformation that has taken place," said Jim Bartholomew, broker for R.W. Holmes who represents the park along with Craig Johnston. "Some of the biggest things tenants are looking for are access and amenities, and Knowledge Park has the best of both worlds."
Carolyn Molloy and James Tambone of Lincoln Properties, Garret Quinn of SVN, Kendall Rowley and Danielle Simbliaris of CBRE, Paul Leone, Rachel Igoe and Connor Barnes of Cushman & Wakefield, Mike Shreve of Shreve R.E., Chris Michniewics of Stubblebine, John Webster of Mohr Partners, Kevin Brawley of Colliers, Bret O'Brien and Kyleigh Caron of Greater Boston Commercial Properties, and James Topper of Savills for worked with R.W. Holmes to complete these 39 leases.
The lessors at the park include Advanced Appraisal, Alpha View, Bayada, Black Socks, Boston Byte, Caliber Home Loans, Colonial Life Insurance, ConnectM Technology Solutions, Dalbar, Inc., EAP, Entuity, FAABS, Family Orthodontics, IAR Systems, Kubotek, Lauterbach, Inc., Lockheed Martin, Northern Benefits, Novus Exterior Construction, OEHN, One Span, OneView Controlls, Operica LLC, Persivia, Powel Electronics, RSIG, Sager Law, SCS Building Maintenance, Inc., Sikich, Silicon Angle, Sigma, Solmetex, Water Development, and Wyebot.