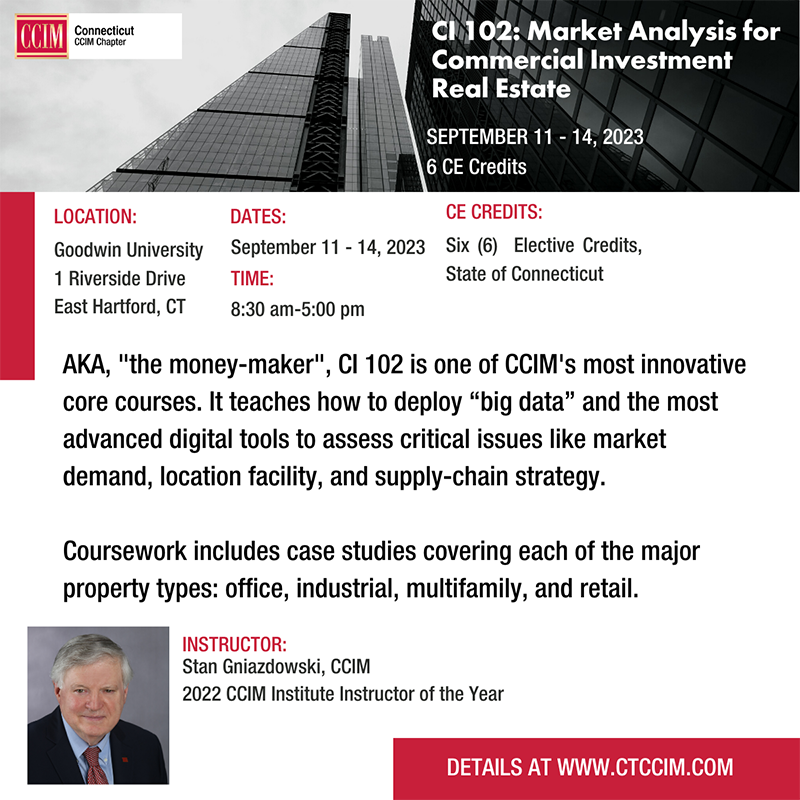 East Hartford, CT The CCIM Connecticut Chapter will hold a CI 102 Course, "Market Analysis for Commercial Investment Real Estate," on September 11-14 at Goodwin University. The course will be taught by Connecticut chapter past president and CCIM 2022 Instructor of the Year Stanley Gniazdowski, CCIM, CRE.
One of CCIM's most innovative core courses, CI 102 shows how to deploy big data and the most advanced digital tools to assess critical issues like market demand, location facility, and supply-chain strategy. CI 102 students learn business analyst mapping and data analytics to help their clients select locations; other tools are lifestyle segmentation to determine demand. The course works with four case studies covering each of the major property types: office, industrial, multifamily, and retail. Students will leave the course with the knowledge of demographic analysis and its utilization to estimate demand in the marketplace for each property type.
The course is approved for six continuing education credits toward the 2022 – 2024 real estate license renewal for the State of Connecticut.
Registration can be found on the chapter website: www.CTCCIM.com