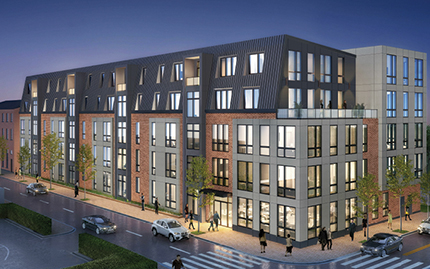 Providence, RI Churchill and Banks teamed up with ZDS Architecture, DiPrete Engineering, and The Torrey Company to design and build a 60,000 s/f, five-story multifamily building at 580 South Water St.
The building will include 69 residential units, 69 parking spaces, and luxury living conditions.
DiPrete Engineering is providing site design, survey, and permitting through the city, RIDEM, CRMC and Narragansett Bay Commission. The site was a previous industrial site which contained part of I-195 that was relocated in the 2000's. The site had challenging underground conditions that led to difficult design considerations for building and stormwater management. The design team coordinated with the city of Providence Downtown Design Review Committee to create a project that fit into the city's vision of the I-195 redevelopment area.
The building will have highway access and will be located near restaurants, the city's Riverwalk, and downtown entertainment.
Construction of the residential building is set to be complete by spring 2021.